| | | |
| --- | --- | --- |
| | Hike on the GR®3 along the Loire River from Mont Gerbier-de-Jonc to La Baule through the departments of Ardeche, Haute-Loire, Puy-de-Deme, Saone-et-Loire, Nievre, Loiret, Indre-et-Loire, Maine-et-Loire and Loire-Atlantique. Guest House, Bed and Breakfast, Hotel, Camping, Shelter, Inn, Shops. | |

GR®3
Loire River trail
From Mont Gerbier-de-Jonc (Ardeche) to La Baule (Loire-Atlantique)
1301km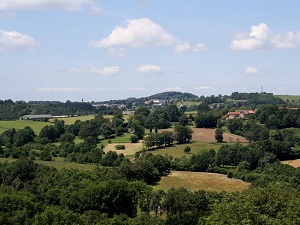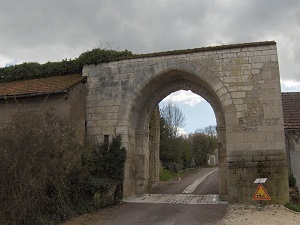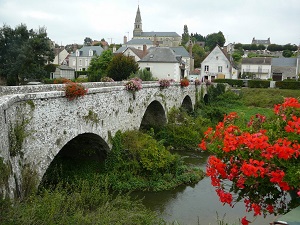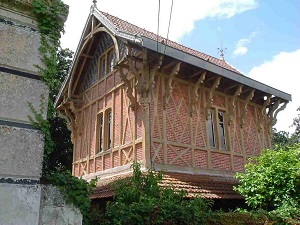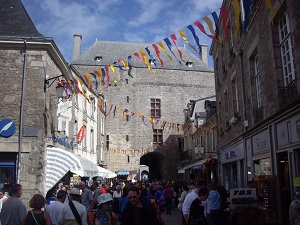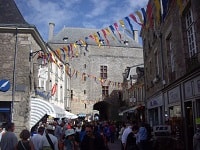 Google Maps - Google Earth - GPX

Distance: 1301km, Elevation maximum: 1608m, Elevation minimum: 0m, Elevation gain uphill: 15561m
IGN Maps: Craponne-sur-Arzon - 2734E. Le Puy-en-Velay - 2735E. Solignac-sur-Loire Cayres - 2736E. Retournac - 2834O. Le Puy-en-Velay Yssingeaux - 2835OT. Gerbier de Jonc Mezenc Vivarais - 2836OT. Lac d'Issarles Thueyts Sources de la Loire - 2837OT. Noiretable - 2731O. St-Georges-en-Couzan Pierre-sur-Haute - 2732E. St-Bonnet-le-Chateau - 2833O. Dompierre-sur-Besbre - 2727O. St-Leon - 2728O. Lapalisse - 2729O. Le Mayet-de-Montagne - 2730O. Noiretable - 2731O. Nevers - 2524E. Decize - 2625E. Imphy - 2625O. Grury - 2726E. Bourbon-Lancy - 2726O. Dompierre-sur-Besbre - 2727O. Briare - 2421E. Neuvy-sur-Loire - 2521O. Donzy - 2522E. Cosne-Cours-sur-Loire - 2522O. Suilly-la-Tour - 2523E). Foret d'Orleans Massif de Lorris Sully-Sur-Loire - 2320ET. Jargeau - 2220E. Orleans Foret-D'Orleans Massif d'Orleans - 2219ET. Blois Chambord Cheverny - 2121OT. Beaugency - 2120E. Montrichard - 2022O. Amboise - 1922E. Tours - 1822E. Chinon - 1723ET. Doue-La-Fontaine - 1623O. Saumur Bourgueil - 1623ET. Maze - 1622O. Valanjou - 1523O. Angers - 1522ET. Varades - 1422O. Chalonnes-Sur-Loire - 1422E. Vallet - 1323O. Ancenis - 1322E. Saint-Herblain - 1223O. Nantes - 1223E. Paimboeuf - 1123E. Savenay - 1122E. La Baule Le Croisic Pnr de Briere - 1023OT. La Roche-Bernard Pnr de Briere - 1022OT. Saint-Nazaire Pnr de Briere - 1022ET.
Goudet: Hotel de la Loire, M. Blanc, 06 64 81 28 14, 04 71 57 18 41
The hotel offers 21 modest and very pleasant rooms. The restaurant offers menus from 10 to 20 €, a varied menu and specialties on order (pierrade, raclette, fondue). A room is planned for your banquets, weddings and business meals.
Alleyrac: L'Ecole Restaurant, Bar, Pizzeria, Grocery store, 04 71 00 20 62, 06 70 20 85 63, Email
The former Alleyrac school has been transformed into a bar restaurant pizzeria since 2018. Lucie and Sylvain will be happy to welcome you warmly and make you discover local products or their native region. Also in the establishment a grocery store, bread, stamp, gas, etc ...
Vousse (Retournac): Gites and Guest house of Vousse, M. Fayolle, 06 84 58 19 30, Email

In the gorges of the Loire, on the GR3F and very close to the GR3, at the foot of the remains of the castle of Artias, Come and relax in this old farmhouse converted into gites and guest rooms with outdoor swimming pool and enjoy a panorama natural and soothing.
Chaulgnes: Le Logis de la Tuilerie, M. Pozza, 5 rue de la Tuilerie, 06 56 77 58 20, Email
Nathalie and Eric are happy to welcome GR3 hikers to their equipped studio. Independent entrance overlooking a green space and all located in a very quiet place ideal for resting well. French breakfast is included and dinner by reservation only.

Registration
Accommodation or business owner on or near a GR®, you can appear on GR-INFOS
For your registration, you can send me by email (papadimitriou4@gmail.com): your address and phone number, your website (Facebook page), a brief description with 5 beautiful photos of your establishment.
Registration price : € 15 per GR® or GRP® and per year (12 months) or € 60 for 5 years. Renewable.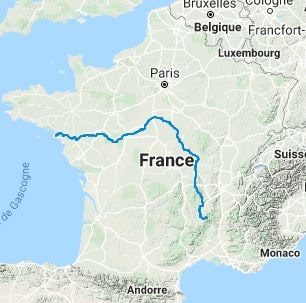 GR®3 Along the Loire river
From Mt Gerbier-de-Jonc (Ardeche) to Retournac (Haute-Loire)
From Retournac (Haute-Loire) to Chabreloche (Puy-de-Dome)
From Chabreloche (Puy-de-Dome) to St Aubin-sur-Loire (Saone-et-Loire)
From St Aubin-sur-Loire (Saone-et-Loire) to Parigny-les-Vaux (Nievre)
From Parigny-les-Vaux (Nievre) to Ousson-sur-Loire (Loiret)
From Ousson-sur-Loire (Loiret) to La Chapelle St Mesmin (Loiret)
From La Chapelle St Mesmin (Loiret) to Lussault-sur-Loire (Indre-et-Loire)
From Lussault-sur-Loire (Indre-et-Loire) to Parnay (Maine-et-Loire)
From Parnay to Mauges-sur-Loire (Maine-et-Loire)
From Mauges-sur-Loire (Maine-et-Loire) to St Etienne-de-Montluc (Loire-Atlantique)
From St Etienne-de-Montluc to La Baule (Loire-Atlantique)

It is advisable to follow the beacons all along your hike and to bring you the FFRandonnee topo-guide. You will also find information on MonGR.fr.
GR®, PR®, GRP®, and the corresponding signs of markings (white / red, yellow and yellow / red) are trademarks of the French Federation of Hiking. They may not be reproduced without permission. The French Federation of Hiking, state-approved, includes organizations that create and maintain hiking routes on GR®, PR® and GRP®. It publishes guides these topo hiking routes.
With your donations, support the actions of the thousands of volunteer markers of the FFRandonnee.
GR-Infos.com is an editorial partner of MonGR.fr.

Old romantic Hotel, L'Etoile Guest-House is a mountain retreat in the South of France. With a beautiful park along the Allier River, L'Etoile Guesthouse is located in La Bastide-Puylaurent between Lozere, Ardeche and Cevennes. Many hiking trails like GR®7, GR®70 Stevenson trail, GR®72, GR®700 Regordane way, Cevenol, GR®470 Allier River Springs and Gorges, Margeride, Ardechoise. Many hiking loops. The right place to relax.
Copyright © gr-infos.com