| | | |
| --- | --- | --- |
| | Hike on the GR®470 Allier River Springs and Gorges through Haute-Loire and Lozere department from Brioude to Moure de la Gardille via Vieille-Brioude, Saint-Ilpize, Blassac, Lavoute-Chilhac, Chilhac, Aubazat, Langeac, Chanteuges, Monistrol-d'Allier, Alleyras, Saint-Venerand, Saint-Christophe-d'Allier, Saint-Haon, Landos, Pradelles, Langogne, Saint-Flour-de-Mercoire and Cheylard-l'Eveque. Guest House, Bed and Breakfast, Hotel, Camping, Shelter, Inn, Shops. | |

GR®470
Allier River springs and gorges
From Brioude (Haute-Loire) to Moure de la Gardille (Lozere)
180km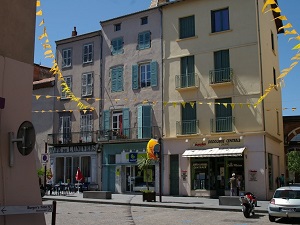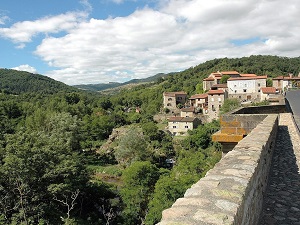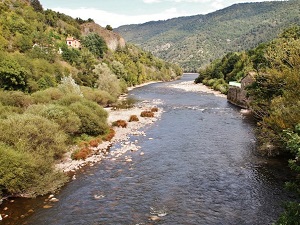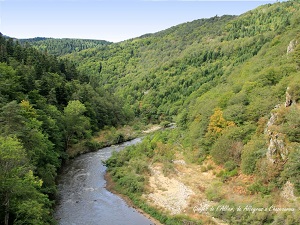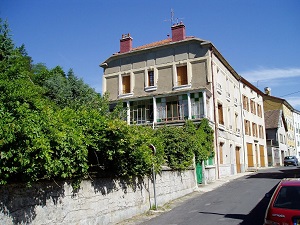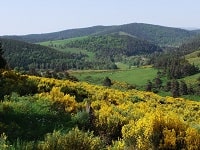 Google Maps - Google Earth - GPX
Distance: 180,4km, Elevation maximum: 1481m, Elevation minimum: 426m, Elevation gain uphill: 5826m
IGN Maps: Brioude (2634O). Langeac (2635E). Lavoute-Chilhac (2635O). Monistrol-d'Allier (2736O). Langogne (2737E). La Bastide-Puylaurent (2738E). Largentiere la Bastide-Puylaurent Vivarais Cevenol (2838OT).
Chanteuges: La Grande Maison Guest House, M. Marloes der Kinderen, 06 20 38 67 77, Email, Facebook
15th century house located at the foot of the Romanesque Abbey of Chanteuges. Light, spacious and old-fashioned rooms with marble bathrooms. Dining room full of atmosphere, modern art, ancient 12th century cellars, gardens and terraces. Peace and serenity. Close to Allier and Desges river.
Chasserades: Hotel des Sources, 04 66 46 01 14, Email

In a warm atmosphere, the Hotel des Sources welcomes you in a pleasant natural setting where you can enjoy calm and serene nature without restriction. Generous regional cuisine.
La Bastide-Puylaurent: L'Etoile Guest House, 06 83 99 70 86, Email
Former resort Hotel built in 1926 in the architectural style typical of the "Roaring Twenties", L'Etoile Guest house is a mountain retreat in the South of France. Beautiful park along the Allier River. Bedrooms are spacious and comfortable. Private parking. GR®: 7, 70, 72, 470, 700. GRP®: Ardechoise, Margeride, Cevenol. Many Hiking loops.

Registration
Accommodation or business owner on or near a GR®, you can appear on GR-INFOS
For your registration, you can send me by email (papadimitriou4@gmail.com): your address and phone number, your website (Facebook page), a brief description with 5 beautiful photos of your establishment.
Registration price : € 15 per GR® or GRP® and per year (12 months) or € 60 for 5 years. Renewable.
Nearby paths:
Round Margeride (Lozere)
Round Robe de Bure and Cotte de Mailles (Haute-Loire)
GR®4 From Atlantique to Mediterranean sea
GR®7 From Vosges to Pyrenees
GR®40 Round Velay (Haute-Loire)
GR®65 Camino de Santiago
GR®70 Chemin de Stevenson
GR®300 From Sancoins (Cher) to Puy-en-Velay (Haute-Loire)
GR®700 Voie Regordane
Private parking at L'Etoile Guest house (La Bastide-Puylaurent) during your hike

It is advisable to follow the beacons all along your hike and to bring you the FFRandonnee topo-guide. You will also find information on MonGR.fr.
GR®, PR®, GRP®, and the corresponding signs of markings (white / red, yellow and yellow / red) are trademarks of the French Federation of Hiking. They may not be reproduced without permission. The French Federation of Hiking, state-approved, includes organizations that create and maintain hiking routes on GR®, PR® and GRP®. It publishes guides these topo hiking routes.
With your donations, support the actions of the thousands of volunteer markers of the FFRandonnee.
GR-Infos.com is an editorial partner of MonGR.fr.

Old romantic Hotel, L'Etoile Guest-House is a mountain retreat in the South of France. With a beautiful park along the Allier River, L'Etoile Guesthouse is located in La Bastide-Puylaurent between Lozere, Ardeche and Cevennes. Many hiking trails like GR®7, GR®70 Stevenson trail, GR®72, GR®700 Regordane way, Cevenol, GR®470 Allier River Springs and Gorges, Margeride, Ardechoise. Many hiking loops. The right place to relax.
Copyright © gr-infos.com