| | | |
| --- | --- | --- |
| | Hike on the GR®70 Stevenson's Trail from Puy-en-Velay to Ales through Auvergne and Cevennes region via Haute-Loire, Lozere, Ardeche and Gard departments. Guest House, Bed and Breakfast, Hotel, Camping, Inn. | |

GR®70
Stevenson's trail
From Le Puy-en-Velay (Haute-Loire) to Ales (Gard)
268km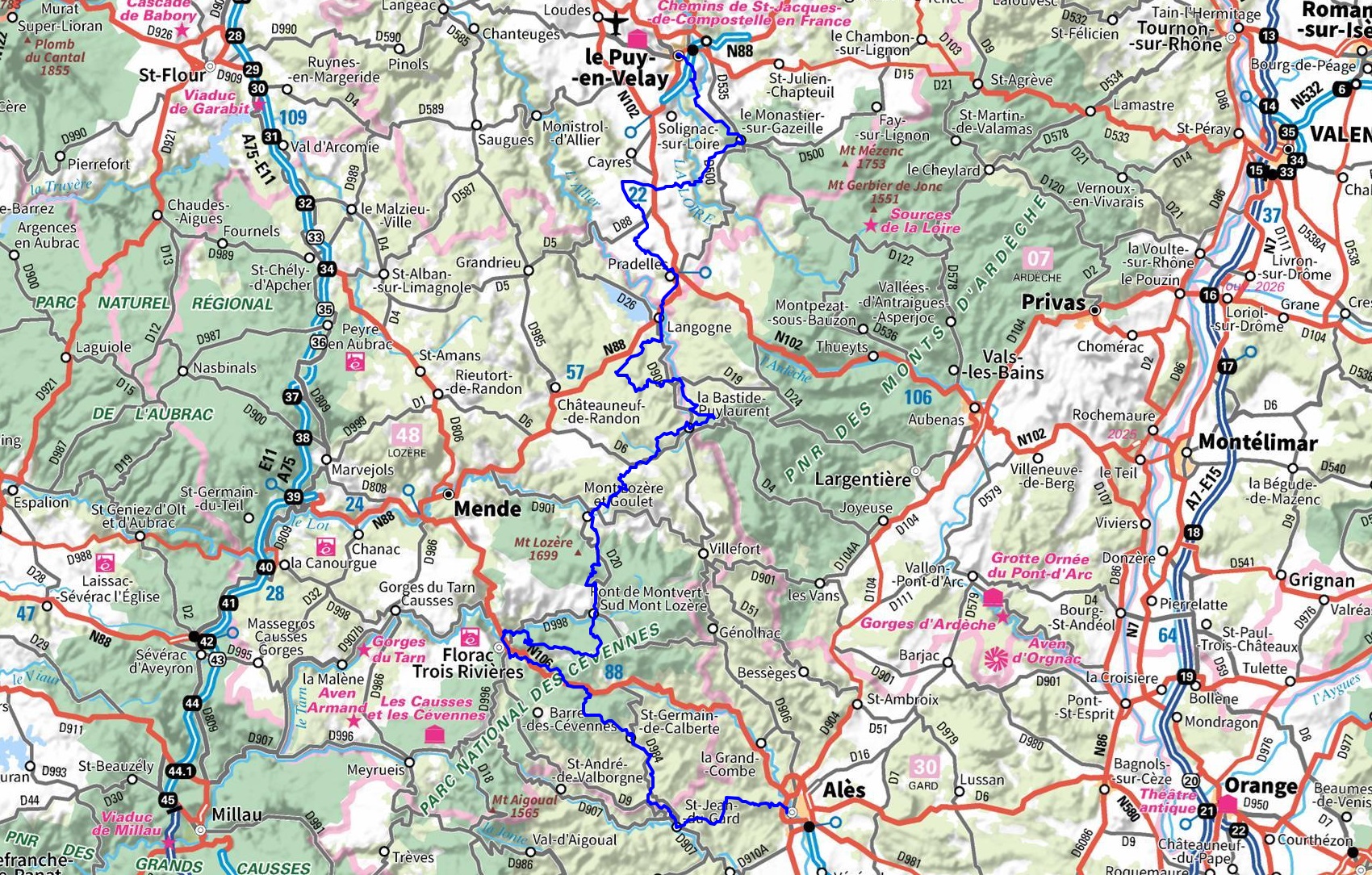 © GPX Private use only
Distance: 268km, Elevation maximum: 1699m, Elevation minimum: 130m, Elevation gain uphill: 7655m
IGN Maps: Le Puy-en-Velay (2735E). Le Puy-en-Velay Yssingeaux (2835OT). Solignac-sur-Loire Cayres (2736E). Gerbier de Jonc Mezenc Vivarais (2836OT). Langogne (2737E). La Bastide-Puylaurent (2738E). Largentiere la Bastide-Puylaurent Vivarais Cevenol (2838OT). Mont Lozere Florac PN des Cevennes (2739OT). Corniche des Cevennes PN des Cevennes (2740ET). Ales (2840OT).
Aiguilhe: Puy-en-Velay Camping***, 04 71 09 55 09, Email
Located in lush greenery and near the river. The place is ideal for hikers. Very close to the city center with a superb view of the famous Rock where the Cloister and the Virgin culminate, emblem of Puy-en-Velay. Free Wifi, grocery store, local products, snack bar. Pets are always welcome and free!
La Bastide-Puylaurent: L'Etoile Guest House, 06 83 99 70 86, Email
Former resort Hotel built in 1926 in the architectural style typical of the "Roaring Twenties", L'Etoile Guest house is a mountain retreat in the South of France. Beautiful park along the Allier River. Bedrooms are spacious and comfortable. Private parking. GR®: 7, 70, 72, 470, 700. GRP®: Ardechoise, Margeride, Cevenol. Many Hiking loops.
La Bastide-Puylaurent: Camping de l'Allier, M. Evenou, 04 66 46 04 06, Email

At the water's edge (ALLIER), in a bucolic place, you will find a pizzeria restaurant, rental of mobile homes 2/4/6 places, pitches for tents, caravans, camper vans.
Chasserades: Hotel des Sources, Eric Chaptal, 04 66 46 01 14, Email

In a warm atmosphere, the Hotel des Sources welcomes you in a pleasant natural setting where you can enjoy calm and serene nature without restriction. Generous regional cuisine.

Registration
Accommodation or business owner on or near a GR®, you can appear on GR-INFOS
For your registration, you can send me by email (papadimitriou4@gmail.com): your address and phone number, your website (Facebook page), a brief description with 5 beautiful photos of your establishment.
Registration price : € 20 per GR® or GRP® and per year (12 months) or € 80 for 5 years. Renewable.
The GR®70, also known as the Stevenson Trail, is an iconic hiking trail that traverses the Cevennes region in France. It follows in the footsteps of the renowned Scottish writer Robert Louis Stevenson, who journeyed through this picturesque region in 1878 and drew inspiration from it for his book "Travels with a Donkey in the Cevennes". The trail spans approximately 268 kilometers, from the town of Le Puy-en-Velay in Haute-Loire to Ales in Gard. It offers hikers a unique experience by combining the natural beauty of the Cevennes landscapes with literary history. The trail meanders through lush green valleys, rocky plateaus, and dense forests, providing breathtaking panoramic views. Following in Stevenson's footsteps, hikers have the opportunity to discover picturesque villages, isolated farms, and preserved landscapes.
The trail also offers insight into rural life and the authenticity of the region, with possible encounters with local farmers and warm-hearted inhabitants. The Stevenson Trail can be completed in approximately 12 to 15 days, depending on each hiker's pace and preferences. Accommodations such as lodges, shelters, and guesthouses are available along the route, providing well-deserved rest after a day of hiking. This trek offers much more than just a sporting adventure. It allows hikers to disconnect from daily life, connect with nature, and rediscover a sense of freedom. Walking in Stevenson's footsteps, following his itinerary and admiring the same landscapes, creates a special connection with history and provides a deep and enriching experience. Whether for literature enthusiasts, nature lovers, or adventure seekers, the Stevenson Trail offers an unforgettable experience. It is an invitation to immerse oneself in the majestic landscapes of the Cevennes, walk at one's own pace, and create lasting memories along this mythical trail.
In conclusion, the GR®70 is much more than just a hiking route. It is an invitation to discover the natural beauty, literary history, and authenticity of the Cevennes. Whether you are an experienced hiker or a travel enthusiast, this adventure promises moments of tranquility, discovery, and wonder throughout the journey.
GR®70 Stevenson's Trail
GR®70 From Le Puy-en-Velay (Haute-Loire) to La Bastide-Puylaurent (Lozere)
GR®70 From La Bastide-Puylaurent (Lozere) to Ales (Gard)
Private parking at L'Etoile Guest house (La Bastide-Puylaurent) during your hike
Nearby paths:
Around Margeride (Lozere)
Around Ardechoise mountain (Ardeche)
Around Causse Mejean (Lozere)
Around Galeizon Valley (Gard-Lozere)
The Cevenol (Lozere, Ardeche, Gard)
GR®3 Loire River trail
GR®3F From Lafarre (Haute-Loire) to Apinac (Loire)
GR®4 From Atlantic to Mediterranean
GR®7 From Vosges to Pyrenees
GR®40 Around Velay (Haute-Loire)
GR®43 From Faisses Pass to Ste Eulalie (Lozere)
GR®61 From Anduze to Asclier Pass (Gard)
GR®65 Camino de Santiago - Via Podiensis
GR®67 Around Cevenol country (Gard, Lozere)
GR®68 Around Mont Lozere (Gard, Lozere)
GR®72 From Les Chambons (Ardeche) to Barre-des-Cevennes (Lozere)
GR®300 From Sancoins (Cher) to Puy-en-Velay (Haute-Loire)
GR®430 Saint Regis way (Haute-Loire, Ardeche)
GR®470 Allier River springs and gorges (Haute-Loire, Lozere)
GR®700 Regordane Way (Haute-Loire, Ardeche, Lozere, Gard)
GR®736 Tarn Valley and Gorges (Lozere, Aveyron, Tarn)
GR®765 From Cluny (Saone-et-Loire) to Puy-en-Velay (Haute-Loire)

It is advisable to follow the beacons all along your hike and to bring you the FFRandonnee topo-guide. You will also find information on MonGR.fr.
GR®, PR®, GRP®, and the corresponding signs of markings (white / red, yellow and yellow / red) are trademarks of the French Federation of Hiking. They may not be reproduced without permission. The French Federation of Hiking, state-approved, includes organizations that create and maintain hiking routes on GR®, PR® and GRP®. It publishes guides these topo hiking routes.
With your donations, support the actions of the thousands of volunteer markers of the FFRandonnee.
GR-Infos.com is an editorial partner of MonGR.fr.

Old romantic Hotel, L'Etoile Guest-House is a mountain retreat in the South of France. With a beautiful park along the Allier River, L'Etoile Guesthouse is located in La Bastide-Puylaurent between Lozere, Ardeche and Cevennes. Many hiking trails like GR®7, GR®70 Stevenson's Trail, GR®72, GR®700 Regordane way, Cevenol, GR®470 Allier river, Margeride, Ardechoise. Many hiking loops. The right place to relax.
Copyright © gr-infos.com (Authorization for private use only)