| | | |
| --- | --- | --- |
| | Hike around Montagne Ardechoise accross Ardeche department from La Bastide-Puylaurent via Rogleton, Laveyrune, Les Hubacs, St Etienne-de-Lugdares, Cellier du Luc, Le Plagnal, Peyremont, Lanarce, Issanlas, Villeneuve, Vente, Lachapelle-Graillouse, Le Lac-d'Issarles, Le Plo, Issarles, Le Crouzet, Cuberteyrade, Moutefont, Le Beage, Gounon, Mont Gerbier de Jonc, Le Clapas, Charassons, Lachamp-Raphael, Pereyres, Sagnes-et-Goudoulet, Sablouse et les Coufouline, Grange de Javelle, Cros-de-Georand, La Palisse, Usclades-et-Rieutord, Ferrand, Saint-Cirgues-en-Montagne, Mazan-l'Abbaye, La Chavade, Bel-Air, le Bez, Les Chambons, Borne, Loubaresse, Montselgues, Laval-d'Aurelle, Saint-Laurent-les-Bains and the abbey Notre-Dame des Neiges. Guest House, Bed and Breakfast, Hotel, Camping, Inn. | |

Tour of Ardechoise mountain
Hiking around Ardechoise mountain (Ardeche)
233km
Google Maps - Google Earth - Wikiloc - Visugpx - GPX
Distance: 233,27km, Elevation maximum: 1552m, Elevation minimum: 670m, Elevation gain uphill: 7544m
IGN Maps: Langogne (2737E). La Bastide-Puylaurent (2738E). Gerbier de Jonc Mezenc Vivarais (2836OT). Lac d'Issarles Thueyts Sources de la Loire (2837OT). Largentiere la Bastide-Puylaurent Vivarais Cevenol (2838OT). Vals-les-Bains (2937O).


Accommodation
La Bastide-Puylaurent: L'Etoile Guest House, 06 83 99 70 86
Former resort Hotel built in 1926 in the architectural style typical of the "Roaring Twenties", L'Etoile Guest house is a mountain retreat in the South of France. Beautiful park along the Allier River. Bedrooms are spacious and comfortable. Private parking.
Bez Pass (Borne): Inn and Gite du Bez, restaurant, two-star hotel or group accommodation, 04 66 46 60 54, Facebook
Mid-mountain reception, traditional and local cuisine, private parking, bicycle garage, ice cream service in the afternoon. Comfortable room or bed in a dormitory, half board, picnic. Labeled bistrot de pays, taste the Ardeche, home to the Ardeche mountains national park. Located on the GR4, GR7, GR72 and Ardechoise Mountain roundtrip.
Guest House, Bed and Breakfast, Hotel, Camping, Refuge, Hostel, Tourist Office, Shops, Hiking Travel Agency on or near a GR ® listed on www.gr-infos.com, you can appear for 10€/year (12 months)/GR by completing the registration form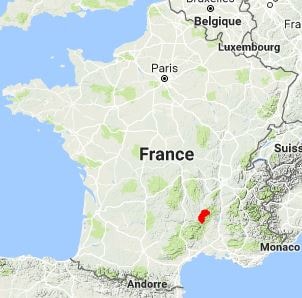 It is advisable to follow the beacons all along your hike and to bring you the FFRandonnee topo-guide. You will also find information on MonGR.fr.
®Acronyms GR®PR® GRP®, and the corresponding signs of markings (white / red, yellow and yellow / red) are trademarks of the French Federation of Hiking. They may not be reproduced without permission. The French Federation of Hiking, state-approved, includes organizations that create and maintain hiking routes on GR® PR® GRP®. It publishes guides these topo hiking routes.

Old romantic Hotel, L'Etoile Guest-House is a mountain retreat in the South of France. With a beautiful park along the Allier River, L'Etoile Guesthouse is located in La Bastide-Puylaurent between Lozere, Ardeche and Cevennes. Many hiking trails like GR7, GR70 Stevenson trail, GR72, GR700 Regordane way, Cevenol, GR470 Allier river trail, Margeride, Ardechoise. Many hiking loops around L'Etoile Guesthouse. The right place to relax.
Copyright © gr-infos.com