| | | |
| --- | --- | --- |
| | Hike across France on the GR®6 from GR®6 Hiking from Arcachon to Fouillouse through Gironde, Dordogne, Lot, Aveyron, Lozere, Gard, Bouches-du-Rhone, Vaucluse and Alpes-de-Haute-Provence department. Guest House, Bed and Breakfast, Hotel, Camping, Shelter, Inn, Shops. | |

GR®6
From Gironde to Alpes-de-Haute-Provence
1339km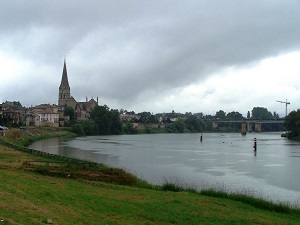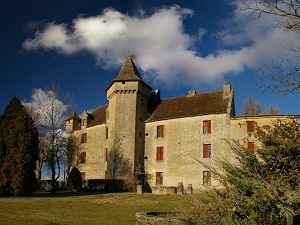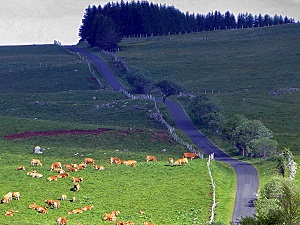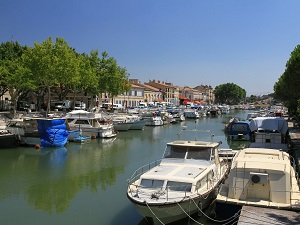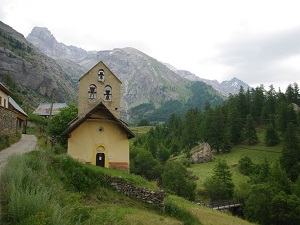 © GPX Private use only
Distance: 1339km, Elevation maximum: 2661m, Elevation minimum: 1m, Elevation gain uphill: 33812m
Les Eyzies: Le Pech Charmant Camping, M. Chevalier, 05 53 35 97 08, 06 70 47 26 24, Email, Facebook, Instagram
Haven of peace for nature lovers in the heart of a forest of oaks and chestnut trees, it offers all the conveniences for hikers on the GR6, GR36 & GR64. Furnished safari tents and cabin lodge, heated swimming pool, gourmet restaurant & snack, private bathrooms. Possibility to go for walks with one of their donkeys.

Meolans-Revel: Meolans Guesthouse, M. Gatelet, 06 75 41 05 13, 09 54 88 86 25
The Guesthouse is an excellent base camp. You can practice hiking, rafting, climbing, mountain biking, road cycling, paragliding or water sports and lazing on Lake Serre Poncon.

Registration
Accommodation or business owner on or near a GR®, you can appear on GR-INFOS
For your registration, you can send me by email (papadimitriou4@gmail.com): your address and phone number, your website (Facebook page), a brief description with 5 beautiful photos of your establishment.
Registration price : € 20 per GR® or GRP® and per year (12 months) or € 80 for 5 years. Renewable.
The GR®6 is a long-distance hiking trail that crosses France from West to East, from Gironde to Alpes-de-Haute-Provence, offering hikers an exceptional experience through varied and picturesque landscapes. Hikers begin their adventure amidst the green hills of this renowned wine region, where they can enjoy magnificent panoramas of vineyards and charming villages. The early stages of the GR®6 take them through the renowned vineyards, where they can discover the famous wines of Bordeaux. Leaving Gironde behind, the trail traverses the regions of Périgord and Quercy, immersing hikers in the beauty of French nature and history. The hilly landscapes and verdant valleys characterize this part of the trail, where hikers can explore well-preserved medieval villages such as Rocamadour and Sarlat. The stages of the GR®6 in these regions also offer opportunities to taste local culinary specialties such as foie gras, truffles, and cheeses.
Continuing their journey, hikers reach the Massif Central, a mountain range that spans several French departments. The stages of the GR®6 through the Massif Central offer spectacular mountain landscapes, with steep peaks, deep valleys, and volcanic plateaus. Hikers can cross the Regional Natural Park of the Volcanoes of Auvergne, where they can admire unique landscapes and fascinating volcanic formations, including the famous Puy de Dôme.
Finally, the GR®6 reaches the Alpes-de-Haute-Provence, where hikers are rewarded with breathtaking alpine scenery. The mountains of the Alps rise majestically before them, with their snow-capped peaks, green valleys, and crystalline lakes. The final stages of the GR®6 offer challenging yet rewarding mountain trails, where hikers can explore picturesque mountain villages and enjoy the pure air and tranquility of the Alps.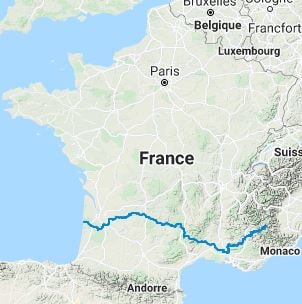 GR®6 From Gironde to Alpes-de-Haute-Provence
From Arcachon to Villandraut (Gironde)
From Villandraut to Ste Foy-la-Grande (Gironde)
From Ste Foy-la-Grande (Gironde) to Eyzies-de-Tayac-Sireuil (Dordogne)
From Eyzies-de-Tayac-Sireuil (Dordogne) to Lacapelle-Marival (Lot)
From Lacapelle-Marival (Lot) to Espalion (Aveyron)
From Espalion (Aveyron) to St Pierre-des-Tripiers (Lozere)
From Saint-Pierre-des-Tripiers (Lozere) to Ners (Gard)
From Ners (Gard) to Aureille (Bouches-du-Rhone)
From Aureille (Bouches-du-Rhone) to Viens (Vaucluse)
From Viens (Vaucluse) to Authon (Alpes-de-Haut e-Provence)
From Authon (Alpes-de-Haute-Provence) to Fouillouse (Hautes-Alpes)

It is advisable to follow the beacons all along your hike and to bring you the FFRandonnee topo-guide. You will also find information on MonGR.fr.
GR®, PR®, GRP®, and the corresponding signs of markings (white / red, yellow and yellow / red) are trademarks of the French Federation of Hiking. They may not be reproduced without permission. The French Federation of Hiking, state-approved, includes organizations that create and maintain hiking routes on GR®, PR® and GRP®. It publishes guides these topo hiking routes.
With your donations, support the actions of the thousands of volunteer markers of the FFRandonnee.
GR-Infos.com is an editorial partner of MonGR.fr.

Old romantic Hotel, L'Etoile Guest-House is a mountain retreat in the South of France. With a beautiful park along the Allier River, L'Etoile Guesthouse is located in La Bastide-Puylaurent between Lozere, Ardeche and Cevennes. Many hiking trails like GR®7, GR®70 Stevenson trail, GR®72, GR®700 Regordane way, Cevenol, GR®470 Allier River Springs and Gorges, Margeride, Ardechoise. Many hiking loops. The right place to relax.
Copyright © gr-infos.com (Authorization for private use only)