| | | |
| --- | --- | --- |
| | Hike on the GR®7 following Watershed line through Vosges and Haute-Marne from Darney to Langres via Belmont-les-Darney, Relanges, Saint-Baslemont, Dombrot-le-Sec, Serecourt, Lamarche, Serqueux, Bourbonne-les-Bains, Coiffy-le-Haut, Chezeaux, Varennes sur Amance, Marcilly-en-Bassigny, Orbigny-au-Mont, Lecey and Liez Lake . Guest House, Bed and Breakfast, Hotel, Camping, Shelter, Inn, Shops. | |

GR®7
From Darney (Vosges) to Langres (Haute-Marne)
From Vosges to Pyrenees
108km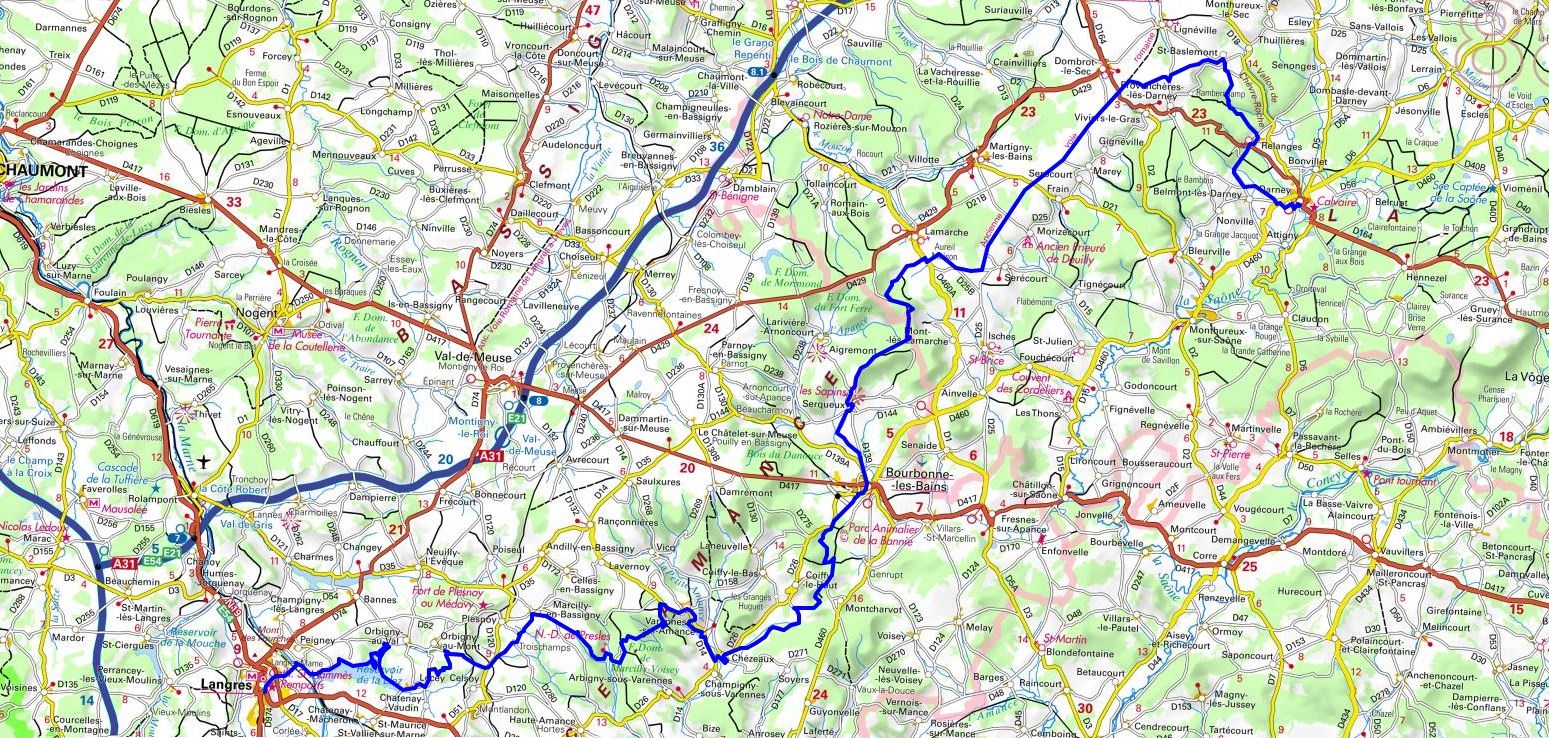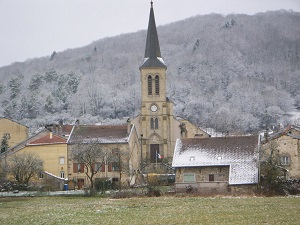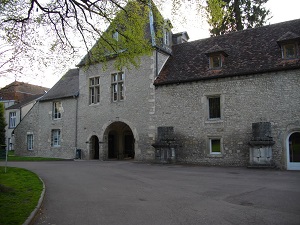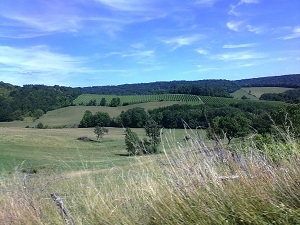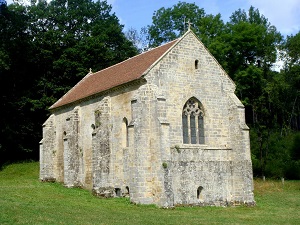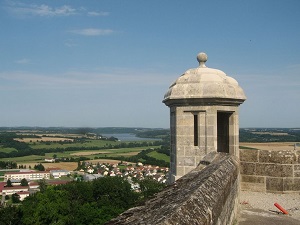 © GPX Private use only
Distance: 108km, Elevation maximum: 486m, Elevation minimum: 244m, Elevation gain uphill: 1466m
IGN Maps: Langres (3120E). Bourbonne-les-Bains (3219E). Chalindrey (3220O). Vittel (3318E). Voisey (3319O).
Bourbonne-les-Bains: Bourbonne-les-Bains: La Boheme Bed and Breakfast, Christine Labreveux, +262 692 23 29 06, Facebook, Email
Hikers and travelers are welcome at "La Boheme" for a stopover on the GR7. At your disposal 2 comfortable quiet rooms will ensure you a restful night, relaxation area, garden and swimming pool in summer. Table d'hotes and breakfast on reservation. All at a low price. Pilgrim rate (to be specified when booking).

Arbigny-sous-Varennes: Mon Preslot Bed and Breakfast, Francine Houdenot, 06 86 99 60 76, 03 25 88 73 47
Located between Langres and Bourbonne-les-Bains which allows the GR®7 walkers to make a stop halfway between these two cities. Living room, kitchen and large terrace are available to our guests, meals on request. We come to pick up and return for free hikers from the GR®7 to the nearest Arbigny.
Arbigny-sous-Varennes: Comme ca camping coffee etc, Femmy Visscher and Rob Heyke, 07 72 09 04 98, Email
We have small caravans (with outdoor kitchen) for rent or you can camp. We come to pick you up and drop you off for free Saint Jacques Lorraine (Santiago de Compostella) and hikers on the GR®7. We offer dinner, breakfast and packed lunch. Tired muscle ? Femmy is a massage therapist.
Peigney: Camping de la Liez (5 stars), 03 25 90 27 79, Email, Facebook, Instagram
At the gates of the new "National Forest Park". Restaurant overlooking the lake, open every evening with take-away meals. Indoor heated swimming pool with sauna and jaccuzzi & an outdoor swimming pool. Mobile homes, chalets, trailers, lodge tents or even coconut tents! With or without private sanitary. Open from May 1 to October 3.

Registration
Accommodation or business owner on or near a GR®, you can appear on GR-INFOS
For your registration, you can send me by email (papadimitriou4@gmail.com): your address and phone number, your website (Facebook page), a brief description with 5 beautiful photos of your establishment.
Registration price : € 20 per GR® or GRP® and per year (12 months) or € 80 for 5 years. Renewable.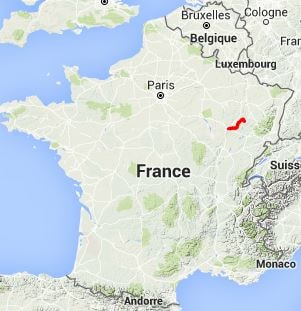 GR®7 From Vosges to Pyrenees
From Ballon d'Alsace to Darney (Vosges)
From Darney (Vosges) to Langres (Haute-Marne)
From Langres (Haute-Marne) to Velars-sur-Ouche (Cote d'Or)
From Velars-sur-Ouche (Cote d'Or) to Le Puley (Saone and Loire)
From Le Puley (Saone and Loire) to Les Sauvages (Rhone)
From Les Sauvages (Rhone) to Charousse Pass (Haute-Loire, Ardeche)
From Charousse Pass (Haute-Loire, Ardeche) to La Bastide-Puylaurent (Lozere)
From La Bastide-Puylaurent (Lozere) to L'Esperou (Gard)
From L'Esperou (Gard) to Boussagues (Herault)
From Boussagues (Herault) to Mazamet (Tarn)
From Mazamet (Tarn) to Mirepoix (Ariege)
From Mirepoix (Ariege) to Portella Blanca d'Andorra (France-Spain)
Wikipedia GR®7

It is advisable to follow the beacons all along your hike and to bring you the FFRandonnee topo-guide. You will also find information on MonGR.fr.
GR®, PR®, GRP®, and the corresponding signs of markings (white / red, yellow and yellow / red) are trademarks of the French Federation of Hiking. They may not be reproduced without permission. The French Federation of Hiking, state-approved, includes organizations that create and maintain hiking routes on GR®, PR® and GRP®. It publishes guides these topo hiking routes.
With your donations, support the actions of the thousands of volunteer markers of the FFRandonnee.
GR-Infos.com is an editorial partner of MonGR.fr.

Old romantic Hotel, L'Etoile Guest-House is a mountain retreat in the South of France. With a beautiful park along the Allier River, L'Etoile Guesthouse is located in La Bastide-Puylaurent between Lozere, Ardeche and Cevennes. Many hiking trails like GR®7, GR®70 Stevenson trail, GR®72, GR®700 Regordane way, Cevenol, GR®470 Allier River Springs and Gorges, Margeride, Ardechoise. Many hiking loops. The right place to relax.
Copyright © gr-infos.com (Authorization for private use only)