| | | |
| --- | --- | --- |
| | Hike on the GR®65 from Geneva (Switzerland) to Roncesvalles (Spain), Camino de Santiago de Compostela, Via Gebennensis - Podiensis. Guest House, Bed and Breakfast, Hotel, Camping, Shelter, Inn, Shops. | |

GR®65
Camino de Santiago
Via Gebennensis - Via Podiensis
From Geneva (Switzerland) to Roncesvalles (Spain)
1119Km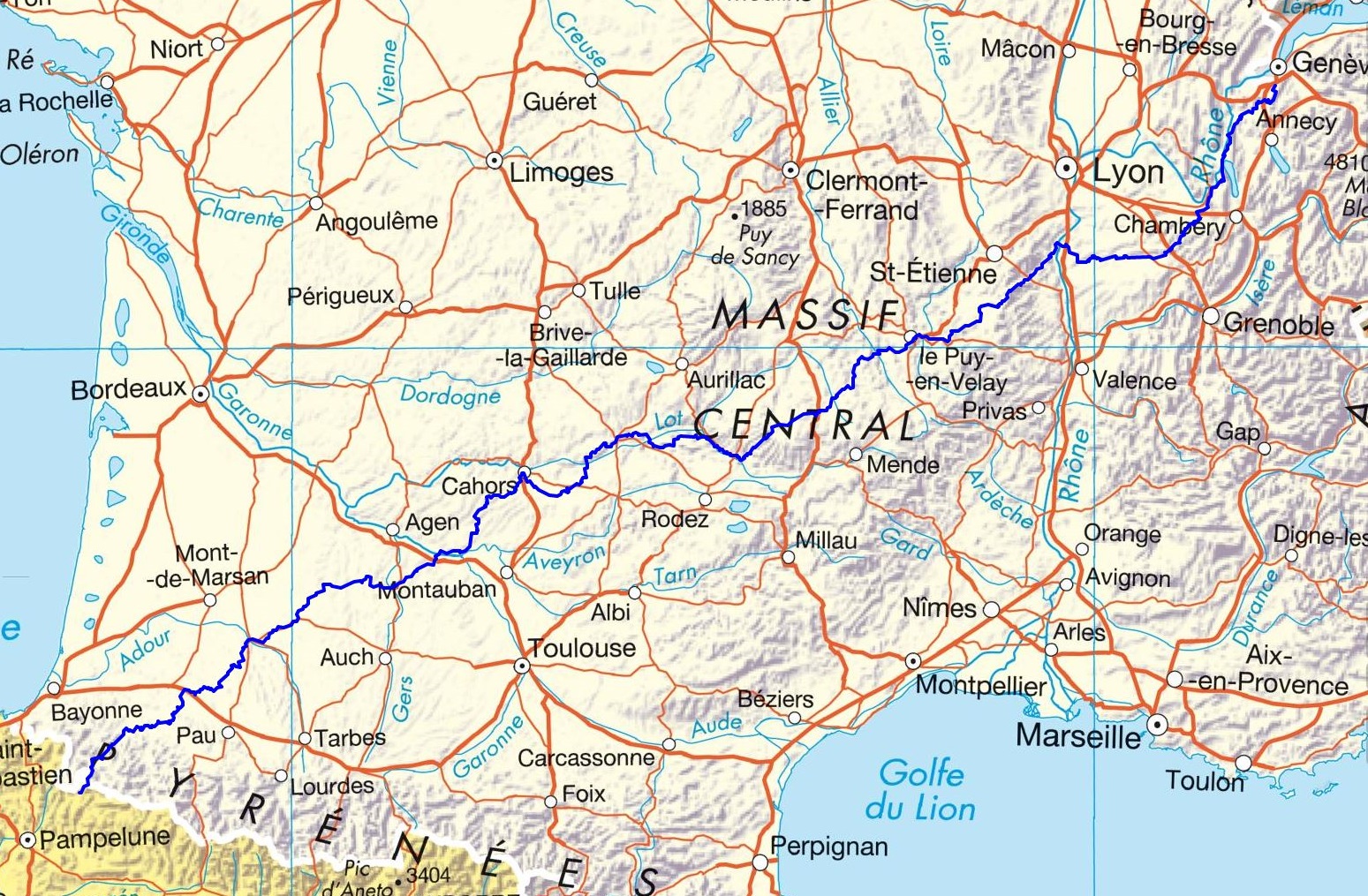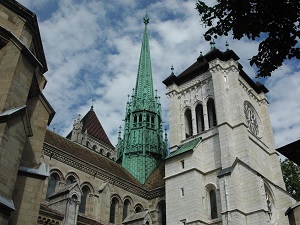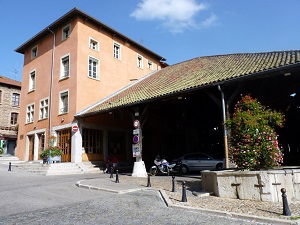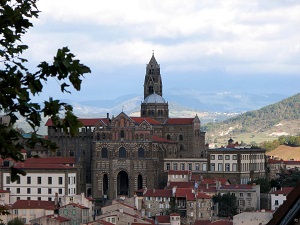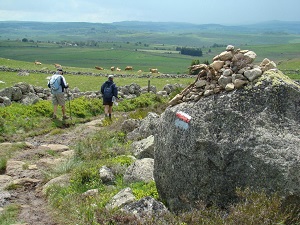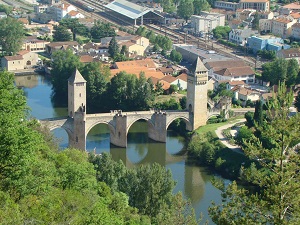 © GPX Private use only
Distance: 1119km, Elevation maximum: 1428m, Elevation minimum: 59m, Elevation gain uphill: 22900m
St Genix-sur-Guiers: Pigneux Guesthouse, M. Christophe Dickerscheit, 06 87 19 04 57, Email
Pigneux Guesthouse is on the way to St Jacques de Compostela on GR®65 Via Gebennensis from Geneva to Puy-en-Velay. For pilgrims on presentation of the credential: €30 per night per person, €7 for breakfast. Possibility of meals on reservation at €15 per person.
Chavanay: Wine Passion Panoramic Bed and Breakfast, Veronique et Yvan Achard, 06 77 65 74 66, Email
Located in the heart of the vineyards, 2 mins walk from the village of Chavanay. Unobstructed view of the Rhone Valley and the Massif du Pilat.
We offer an air-conditioned double room and a single room, both with terrace and bathroom. We can serve a varied and hearty breakfast.
Aiguilhe: Puy-en-Velay Camping***, 04 71 09 55 09, Email
Located in lush greenery and near the river. The place is ideal for hikers. Very close to the city center with a superb view of the famous Rock where the Cloister and the Virgin culminate, emblem of Puy-en-Velay. Free Wifi, grocery store, local products, snack bar. Pets are always welcome and free!
Monistrol-d'Allier: Les Terrasses de l'Allier Guest house, Alain Gaillard, 06 03 94 04 73, Email
Located in the heart of the small town of Monistrol d'Allier in a former 19th century mansion at the crossroads of the GR®65 St Jacques de Compostela and GR®470 Sources and Gorges de l'Allier. Welcomed throughout the year, Alain offers you his guest rooms and his table d'hotes, local cuisine and local products.
Montreal du Gers: Le Moulin de Gaudun, Laura Behrens et Thomas Bahn, 05 62 68 90 35, Email
A 300-year-old mill with a beautiful permaculture land. Earth Care, People Care, and Fair Share. Accommodation, meals, guided tours of the land, and a library to learn more about the great possibilities of permaculture. We aim to share our knowledge and the beauty of this little paradise.
Saint Jean-Pied-de-Port: Esteban Etxea Guesthouse, 06 38 22 80 05, 06 62 18 53 87, Email
The house has been renovated with ecological materials and lovers of old stones will appreciate the stop. We offer two beautiful bedrooms and a small 6-bed dormitory for small groups or families. Each space has a private bathroom. Breakfasts and half board are provided on request.
Saint Jean-Pied-de-Port: The bunny and the turtle Guesthouse, 06 63 62 92 35, 06 59 13 52 25, Email
Stopover gîte with a capacity of 13 people, located in the historic heart of Saint Jean-Pied-de-Port in a medieval house. Warm welcome for pilgrims of Compostela GR®65 and hikers of the GR®10. Several accommodation options. Living room, terrace and garden. Table d'hotes on reservation. Cyclists welcome.

Registration
Accommodation or business owner on or near a GR®, you can appear on GR-INFOS
For your registration, you can send me by email (papadimitriou4@gmail.com): your address and phone number, your website (Facebook page), a brief description with 5 beautiful photos of your establishment.
Registration price : € 20 per GR® or GRP® and per year (12 months) or € 80 for 5 years. Renewable.
The GR®65, also known as the Way of St. James or the Camino de Santiago, is one of the most iconic pilgrimage routes in the world. It follows the traditional path of pilgrims traveling to Santiago de Compostela in Spain, where the cathedral houses the tomb of the Apostle James. This trail offers pilgrims a unique experience, combining spirituality, history, and the discovery of diverse landscapes. Along the way, pilgrims have the opportunity to cross picturesque villages, green valleys, majestic mountains, and golden fields. Each stage offers different landscapes, ranging from the volcanic plateaus of Auvergne to the rugged peaks of the Pyrenees. But the GR®65 is much more than just a hiking route. It is imbued with a spiritual atmosphere and provides pilgrims with the opportunity to rejuvenate, reflect, and connect with a millennia-old tradition. Throughout the journey, pilgrims can meet walkers from around the world, exchange stories, share experiences, and support each other in their spiritual quest.
Accommodations along the GR®65 vary, ranging from modest guesthouses to shelters and inns. These places offer well-deserved rest to pilgrims after a day of walking, as well as a friendly and welcoming atmosphere where they can interact with fellow travelers. Walking the Way of St. James is a true inner journey. It is a physical, mental, and spiritual experience that allows pilgrims to refocus, find meaning, and surpass themselves. Each step carries significance, whether it is for a religious pilgrimage, a personal quest, or simply a human adventure. Whether one is a believer or not, the journey offers a unique and unforgettable experience. It reminds us of the importance of travel, meeting others, and self-discovery. Walking in the footsteps of pilgrims who have traveled this path for centuries provides a sense of connection with history, spirituality, and humanity itself.
In conclusion, the Way of St. James is much more than just a hiking trail. It is a path steeped in history, spirituality, and encounters. It invites pilgrims from around the world to embark on a journey, to open themselves to travel, and to experience a profound and transformative adventure.
GR®65 Santiago de Compostela Way
Via Gebennensis
From Geneva (Switzerland) to St Genix-sur-Guiers (Savoie)
From St Genix-sur-Guiers (Savoie) to Maclas (Loire)
From Maclas (Loire) to Le Puy-en-Velay (Haute-Loire)
Via Podiensis
From Puy-en-Velay (Haute-Loire) to Nasbinals (Lozere)
From Nasbinals (Lozere) to Montredon (Lot)
From Montredon to Labastide-Marnhac (Lot)
From Labastide-Marnhac (Lot) to Marsolan (Gers)
From Marsolan (Gers) to Aire-sur-l'Adour (Landes)
From Aire-sur-l'Adour (Landes) to Larribar-Sorhapuru (Pyrenees-Atlantiques)
From Larribar-Sorhapuru (Pyrenees-Atlantiques) to Roncesvalles (Spain)

It is advisable to follow the beacons all along your hike and to bring you the FFRandonnee topo-guide. You will also find information on MonGR.fr.
GR®, PR®, GRP®, and the corresponding signs of markings (white / red, yellow and yellow / red) are trademarks of the French Federation of Hiking. They may not be reproduced without permission. The French Federation of Hiking, state-approved, includes organizations that create and maintain hiking routes on GR®, PR® and GRP®. It publishes guides these topo hiking routes.
With your donations, support the actions of the thousands of volunteer markers of the FFRandonnee.
GR-Infos.com is an editorial partner of MonGR.fr.

Old romantic Hotel, L'Etoile Guest-House is a mountain retreat in the South of France. With a beautiful park along the Allier River, L'Etoile Guesthouse is located in La Bastide-Puylaurent between Lozere, Ardeche and Cevennes. Many hiking trails like GR®7, GR®70 Stevenson trail, GR®72, GR®700 Regordane way, Cevenol, GR®470 Allier River Springs and Gorges, Margeride, Ardechoise. Many hiking loops. The right place to relax.
Copyright © gr-infos.com (Authorization for private use only)