| | | |
| --- | --- | --- |
| | Hike on the GR®71 through Gard, Aveyron and Herault department from L'Esperou to Fontfroide Pass via Pont des Vaquiers, Mas Gauzin, La Couvertoirade, Le Caylar, Soubes, Lodeve, Roqueredonde, Ceilhes-et-Rocozels, Bres, Avene, Le Coural, Servies, Fagairolles, Ginestet, La Calmette, Salvergues et Cambon. Guest House, Bed and Breakfast, Hotel, Camping, Shelter, Inn, Shops. | |

GR®71
From L'Esperou (Gard) to Fontfroide Pass (Herault)
164km
Distance: 164,53km, Elevation maximum: 1367m, Elevation minimum: 156m, Elevation gain uphill: 4201m
IGN Maps: Cornus - 2542E. Mont Aigoual le Vigan PN des Cevennes -2641ET. Nant Gorges de la Dourbie - 2641O. Le Caylar la Couvertoirade - 2642O. Lodeve Bedarieux Lac de Salagou - 2643OT. Castres Le Sidobre Pnr du Haut Languedoc - 2343ET. Montagne Noire (Est) Mazamet Pnr du Haut Languedoc - 2344ET. Monts de Lacaune La Salvetat-Sur-Agout Pnr du Haut Languedoc - 2443ET. Camares Avene - 2542OT. Lamalou-Les-Bains L'Espinouse Le Caroux Pnr du Haut Languedoc - 2543OT.
Lodeve: A la table de Valy Guesthouse, M. Phan, 07 67 99 91 71, Email
International cuisine. Breakfast, lunch or dinner. The pilgrim can prepare his meal. Cooking can be done together, the human adventure begins around a good table. 1 bedroom with a large bed overlooking the stars and the Virgin, 1 bedroom with a single bed overlooking the skies. Wifi, bicycle shelter, washing machine.

Registration
Accommodation or business owner on or near a GR®, you can appear on GR-INFOS
For your registration, you can send me by email (papadimitriou4@gmail.com): your address and phone number, your website (Facebook page), a brief description with 5 beautiful photos of your establishment.
Registration price : € 15 per GR® or GRP® and per year (12 months) or € 60 for 5 years. Renewable.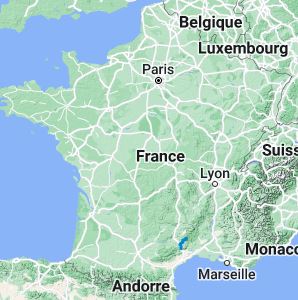 Nearby paths:
Round Oc Highlands (Tarn, Herault)
Round Avene Lake (Herault)
Between Two Lakes. From Avene Lake to Salagou Lake (Herault)
Round Viganais (Gard)
Round Larzac Meridional (Herault-Gard)
Round Salagou (Herault)
GR®6 From Gironde to Alpes-de-Haute-Provence
GR®7 From Vosges to Pyrenees
GR®60 From Signal de Mailhebiau (Lozere-Aveyron) to St Mathieu-de-Treviers (Herault)
GR®62 From Roque Rouge (Gard) to Conques (Aveyron)
GR®66 Round Mont Aigoual (Lozere, Gard)
GR®71C Templars and Hospitallers round (Aveyron)
GR®71D Round Larzac (Aveyron)
GR®653 Arles way - Via Tolosana
GR®787 From St-Gervais-sur-Mare to Capestang (Herault)

It is advisable to follow the beacons all along your hike and to bring you the FFRandonnee topo-guide. You will also find information on MonGR.fr.
GR®, PR®, GRP®, and the corresponding signs of markings (white / red, yellow and yellow / red) are trademarks of the French Federation of Hiking. They may not be reproduced without permission. The French Federation of Hiking, state-approved, includes organizations that create and maintain hiking routes on GR®, PR® and GRP®. It publishes guides these topo hiking routes.
With your donations, support the actions of the thousands of volunteer markers of the FFRandonnee.
GR-Infos.com is an editorial partner of MonGR.fr.

Old romantic Hotel, L'Etoile Guest-House is a mountain retreat in the South of France. With a beautiful park along the Allier River, L'Etoile Guesthouse is located in La Bastide-Puylaurent between Lozere, Ardeche and Cevennes. Many hiking trails like GR®7, GR®70 Stevenson trail, GR®72, GR®700 Regordane way, Cevenol, GR®470 Allier River Springs and Gorges, Margeride, Ardechoise. Many hiking loops. The right place to relax.
Copyright © gr-infos.com