| | | |
| --- | --- | --- |
| | Hike on the GR®145 Via Francigena through Pas-de-Calais, Somme, Marne, Aisne, Aube, Haute-Marne, Haute-Saone and Doubs department from Calais to Les Fourgs (France-Switzerland). Guest House, Bed and Breakfast, Hotel, Camping, Shelter, Inn, Shops. | |

GR®145
Via Francigena - Pilgrimage to Rome
From Calais (Pas-de-Calais) to Jougne (Doubs)
1005km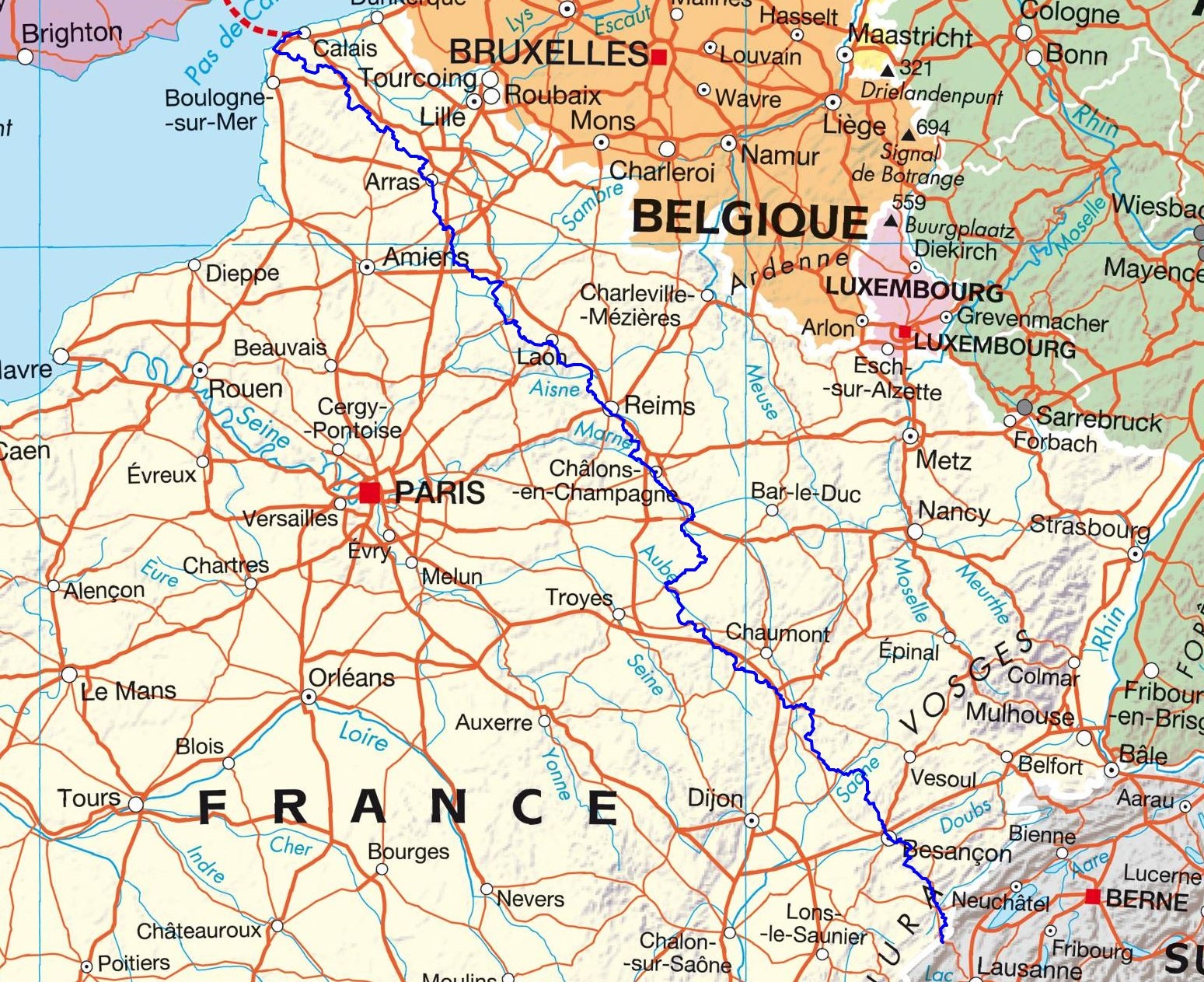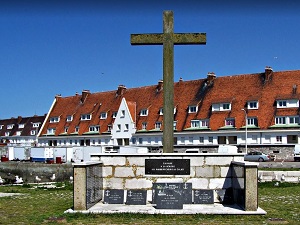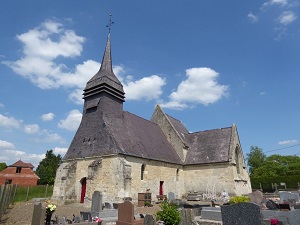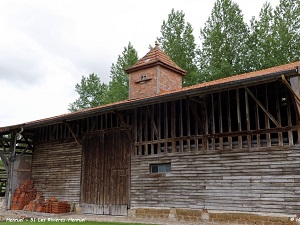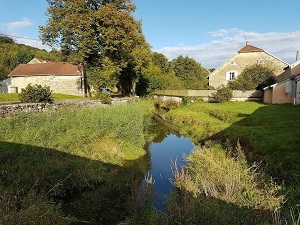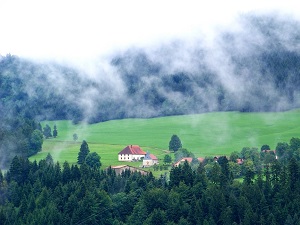 © GPX Private use only
Distance: 1005km, Elevation maximum: 1218m, Elevation minimum: 3m, Elevation gain uphill: 10695m
IGN Maps: Calais Site des Caps Foret de Guines Pnr des Caps et Marais d'Opale - 2103ET. Gravelines Audruicq - 2203E. Lumbres - 2204E. Saint-Omer - 2304O.
Dohem: Domaine des Tilleuls Bed and Breakfast, M. Magnier, 07 87 26 18 57, 06 47 15 41 19, Email
It is in this rural, calm and restful setting that you will spend your stay, in a family building entirely renovated and decorated with passion by the hostess. Breakfast included. Fully equipped kitchen available.
Peigney: Camping de la Liez (5 stars), 03 25 90 27 79, Email, Facebook, Instagram
At the gates of the new "National Forest Park". Restaurant overlooking the lake, open every evening with take-away meals. Indoor heated swimming pool with sauna and jaccuzzi & an outdoor swimming pool. Mobile homes, chalets, trailers, lodge tents or even coconut tents! With or without private sanitary. Open from May 1 to October 3.

Registration
Accommodation or business owner on or near a GR®, you can appear on GR-INFOS
For your registration, you can send me by email (papadimitriou4@gmail.com): your address and phone number, your website (Facebook page), a brief description with 5 beautiful photos of your establishment.
Registration price : € 20 per GR® or GRP® and per year (12 months) or € 80 for 5 years. Renewable.
The GR®145 Via Francigena is an iconic trail that offers a unique hiking experience along the ancient pilgrimage routes connecting Canterbury in England to Rome in Italy. This trail, rich in history and spirituality, invites you to discover breathtaking landscapes, historical sites, and immerse yourself in the pilgrimage atmosphere that has endured for centuries. The trail follows the original route of the Via Francigena, the itinerary traced by the Archbishop of Canterbury, Sigeric the Serious, in the 8th century during his return journey from Rome. Throughout this epic adventure spanning nearly 1,900 kilometers, hikers have the opportunity to walk in the footsteps of medieval pilgrims and connect with a long tradition of spirituality and discovery. The trail traverses diverse landscapes, from the verdant fields of England to the rolling vineyards of France, from the majestic peaks of the Swiss Alps to the undulating hills of Tuscany in Italy. Each stage offers panoramic views, encounters with friendly locals, and fascinating cultural discoveries. You'll have the opportunity to stop in historic cities such as Reims, Lausanne, Parma, and Siena, where you can admire remarkable monuments, taste delicious local cuisine, and immerse yourself in the enchanting atmosphere of history.
The GR®145 Via Francigena is not just a physical journey, it is also a spiritual adventure. Throughout the route, you can visit churches, abbeys, and sacred sites that hold deep meaning for pilgrims. These places of worship provide moments of reflection and contemplation, allowing hikers to connect with a spiritual dimension and find inner peace.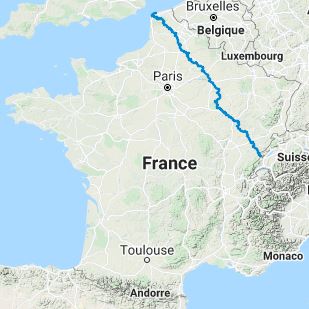 GR®145 Via Francigena
From Calais to Therouanne (Pas-de-Calais)
From Therouanne to Arras (Pas-de-Calais)
From Arras (Pas-de-Calais) to Saint Quentin (Aisne)
From Saint Quentin to Neuville-sur-Ailette (Aisne)
From Neuville-sur-Ailette (Aisne) to Conde-sur-Marne (Marne)
From Conde-sur-Marne (Marne) to Rosnay-l'Hopital (Aube)
From Rosnay-l'Hopital (Aube) to Chateauvillain (Haute-Marne)
From Chateauvillain to Coublanc (Haute-Marne)
From Coublanc (Haute-Marne) to Besançon (Doubs)
From Besançon to Jougne (Doubs)

Nearby paths:
Around Pays de Courbet (Doubs)
Around Maquisards (Aube)
Around Lakes (Aube)
Around Troyes (Aube)
Around Sarce and Hozain Valley (Aube)
Around the Two Bar (Aube)
Around Pays de Gaston Bachelard (Aube)

It is advisable to follow the beacons all along your hike and to bring you the FFRandonnee topo-guide. You will also find information on MonGR.fr.
GR®, PR®, GRP®, and the corresponding signs of markings (white / red, yellow and yellow / red) are trademarks of the French Federation of Hiking. They may not be reproduced without permission. The French Federation of Hiking, state-approved, includes organizations that create and maintain hiking routes on GR®, PR® and GRP®. It publishes guides these topo hiking routes.
With your donations, support the actions of the thousands of volunteer markers of the FFRandonnee.
GR-Infos.com is an editorial partner of MonGR.fr.

Old romantic Hotel, L'Etoile Guest-House is a mountain retreat in the South of France. With a beautiful park along the Allier River, L'Etoile Guesthouse is located in La Bastide-Puylaurent between Lozere, Ardeche and Cevennes. Many hiking trails like GR®7, GR®70 Stevenson trail, GR®72, GR®700 Regordane way, Cevenol, GR®470 Allier River Springs and Gorges, Margeride, Ardechoise. Many hiking loops. The right place to relax.
Copyright © gr-infos.com (Authorization for private use only)