| | | |
| --- | --- | --- |
| | Hike on the GR®4 through Charente-Maritime, Charente, Haute-Vienne, Creuse, Puy-de-Dome, Cantal, Ardeche, Vaucluse, Alpes-de-Haute-Provence and Alpes-Maritimes department from Royan to Grasse. Guest House, Bed and Breakfast, Hotel, Camping, Shelter, Inn, Shops. | |

GR®4
From Atlantic to Mediterranean
From Royan (Charente-Maritime) to Grasse (Alpes-Maritime)
1530km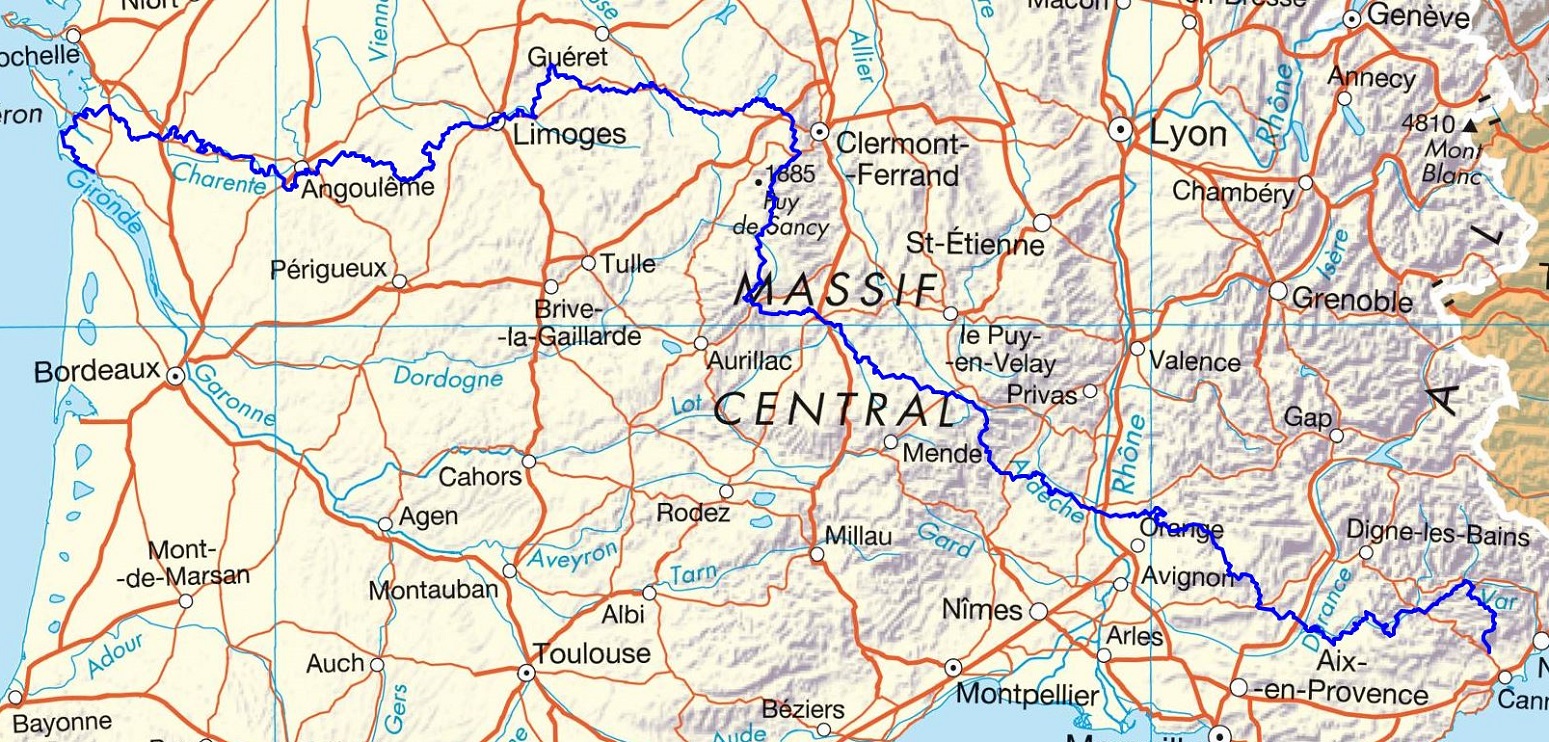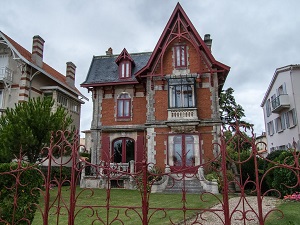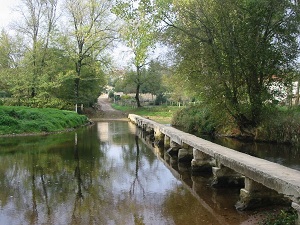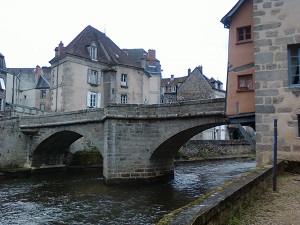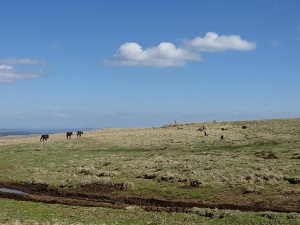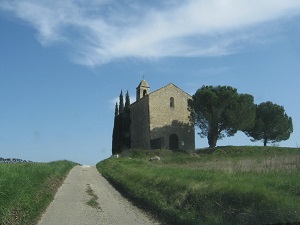 © GPX Private use only
Distance: 1530km, Elevation maximum: 1881m, Elevation minimum: 0m, Elevation gain uphill: 35972m
Champagnac-la-Riviere: Aux Glycines Bed and Breakfast, M. Marsden, 05 55 35 43 41, Email

1200m from the GR4. We pick you up by car if needed. Simple accommodation with everything you need to shower, rest and above all sleep well. You can prepare hot drinks and even cook simple meals. For the winter, there is a wood stove (logs provided).
Chignat (Soubrebost): Els Pomers Guest house, M. Christopher Geatrell, 06 01 97 66 41, Email
Els Pomers offers 4 very spacious and pretty rooms, 3 double/family and a twin. All rooms include a complete and private bathroom, heating and Wi-Fi. Parking available. We offer the table d'hotes for the evening meal, Mediterranean cuisine, as well as the picnic for the next day.
Beauregard (St Ours-les-Roches): Beauregard Guesthouse, Madame Dominique Brunet, 06 85 42 67 05, Email
In Beauregard, on the GR®4, GR®89 and close to the GR®441, I offer you a private night in my house (garden, kitchen, living room with fireplace), one or two bedrooms each with a 120 bed and a 90 bed. 1 to 6 people. Comfort.
Les Maisons Rouges (Saint-Ours-les-Roches): Lemptegy Lodges, Contact : Sophie, 04 73 62 23 81, Email
An essential stopover on the GR®4, GR®89 and GR®441, the Lodges of Lemptegy offer you to sleep on the slopes of a volcano. 24 lodges that can accommodate from 1 to 6 people are available. Homemade meals, local specialities, picnics to take away. Visit the Volcano at a reduced rate by staying on site.
Laschamps (Saint-Genes-Champanelle): Archipel Volcans Hotel-Gite, Contact : Sylvie, 04 73 62 15 15, Email
At the foot of the Puy de Dome, the Archipel Volcans hotel offers 19 rooms including 2 special tribal rooms that can accommodate up to 7 people. Single room or hiking stop formulas (comfortable room to share, at a low price). Restaurant on site, and possibility of picnic to take away (local products).
Grospierres: Villa Font Vive Guest house, M. Pierre Guiganti, 06 33 83 72 82, Email
Villa Font Vive (200m from GR®4) has 3 guest rooms and a trailer. In addition to the swimming pool to relax after a long day of walking, you will have access to the petanque court, a shared kitchen and a dining area. We offer a meal if needed. Homemade breakfasts, organic and local products.
Esparron-de-Verdon: Belvedere de la Tuiliere Guesthouse & Campsite, M. Lasserre Marc, 06 30 08 44 58, Email
Welcome to hikers, a cold beer, a hot meal, and a packed lunch for the next day. Member of FFRP and guides visitors of the region on nature walks or sports activities. At Marc and Laurence's place, their houses are below the "Belvedere de la Tuiliere." Located in the forest with a splendid view of Lake Esparron.

Registration
Accommodation or business owner on or near a GR®, you can appear on GR-INFOS
For your registration, you can send me by email (papadimitriou4@gmail.com): your address and phone number, your website (Facebook page), a brief description with 5 beautiful photos of your establishment.
Registration price : € 20 per GR® or GRP® and per year (12 months) or € 80 for 5 years. Renewable.
The GR®4, also known as the Atlantic to Mediterranean Trail, is an iconic hiking trail that spans across France from one ocean to another. This spectacular trail offers hikers a unique experience as they traverse diverse landscapes, regions, and climates, from the Atlantic coast to the Alps and all the way to the Mediterranean. The trail starts in Royan, Charente-Maritime, offering hikers breathtaking views of the ocean and sandy beaches. They can feel the sea breeze and enjoy the coastal scenery, sand dunes, and steep cliffs along the way. Continuing eastward, hikers pass through the Massif Central region and begin their ascent into the mountains, crossing lush green valleys, turbulent rivers, and dense forests. The Alps present awe-inspiring panoramas with snow-capped peaks, crystal-clear lakes, and alpine meadows adorned with wildflowers.
Beyond the varied landscapes, the GR®4 is also steeped in history and culture. Hikers have the opportunity to pass through picturesque villages, historic towns, and fascinating archaeological sites along the route. They can explore local architecture, sample regional specialties, and interact with locals throughout their journey. Each stage of the GR®4 offers a chance to learn more about France's cultural diversity and immerse oneself in its heritage. While hiking the GR®4, hikers also bear witness to France's ecological diversity. From coastal marshes teeming with biodiversity to fragile mountain ecosystems, they can observe a wide variety of flora and fauna along the trail. Nature reserves, national parks, and protected areas dot the route, providing hikers with the opportunity to discover preserved natural environments.
In conclusion, the GR®4 is an extraordinary trail that allows hikers to traverse France from west to east, experiencing its landscapes, history, and culture. It offers an unforgettable adventure, providing unique experiences, enriching encounters, and a total immersion in the natural and cultural diversity of the country. Whether embarking on a complete hike or exploring specific sections, the GR®4 promises lasting memories and a deep appreciation for the beauty and richness of France.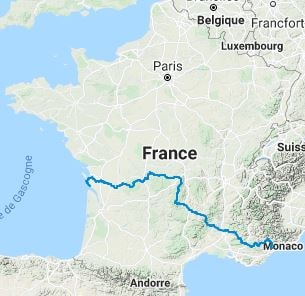 GR®4 From the Atlantic to the Mediterranean
From Royan to Saintes (Charente-Maritime)
From Saintes (Charente-Maritime) to Mouthiers-sur-Boeme (Charente)
From Mouthiers-sur-Boeme (Charente) to Cussac (Haute-Vienne)
From Cussac (Haute-Vienne) to Chatelus-le-Marcheix (Creuse)
From Chatelus-le-Marcheix (Creuse) to Condat-en-Combraille (Puy-de-Dome)
From Condat-en-Combraille to Egliseneuve-d'Entraigues (Puy-de-Dome)
From Egliseneuve-d'Entraigues (Puy-de-Dome) to St Flour (Cantal)
From St Flour (Cantal) to Loubaresse (Ardeche)
From Loubaresse (Ardeche) to Mondragon (Vaucluse)
From Mondragon (Vaucluse) to Simiane-la-Rotonde (Alpes-de-Haute-Provence)
From Simiane-la-Rotonde to Rougon (Alpes-de-Haute-Provence)
From Rougon (Alpes-de-Haute-Provence) to Grasse (Alpes-Maritimes)

It is advisable to follow the beacons all along your hike and to bring you the FFRandonnee topo-guide. You will also find information on MonGR.fr.
GR®, PR®, GRP®, and the corresponding signs of markings (white / red, yellow and yellow / red) are trademarks of the French Federation of Hiking. They may not be reproduced without permission. The French Federation of Hiking, state-approved, includes organizations that create and maintain hiking routes on GR®, PR® and GRP®. It publishes guides these topo hiking routes.
With your donations, support the actions of the thousands of volunteer markers of the FFRandonnee.
GR-Infos.com is an editorial partner of MonGR.fr.

Old romantic Hotel, L'Etoile Guest-House is a mountain retreat in the South of France. With a beautiful park along the Allier River, L'Etoile Guesthouse is located in La Bastide-Puylaurent between Lozere, Ardeche and Cevennes. Many hiking trails like GR®7, GR®70 Stevenson trail, GR®72, GR®700 Regordane way, Cevenol, GR®470 Allier River Springs and Gorges, Margeride, Ardechoise. Many hiking loops. The right place to relax.
Copyright © gr-infos.com (Authorization for private use only)