| | | |
| --- | --- | --- |
| | Hike on the GR®4 through Charente-Maritime, Charente, Haute-Vienne, Creuse, Puy-de-Dome, Cantal, Ardeche, Vaucluse, Alpes-de-Haute-Provence and Alpes-Maritimes department from Royan to Grasse. Guest House, Bed and Breakfast, Hotel, Camping, Inn. | |

GR®4
From the Atlantic to the Mediterranean
From Royan (Charente-Maritime) to Grasse (Alpes-Maritime)
1526km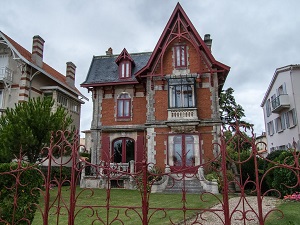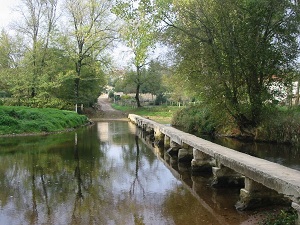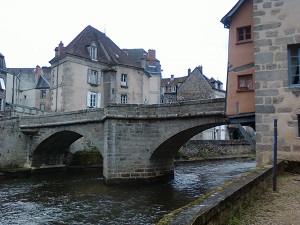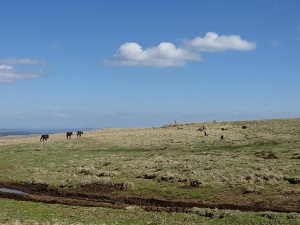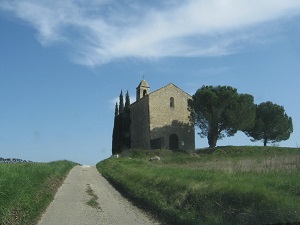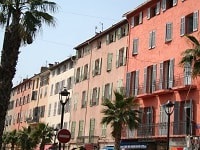 Google Maps - Google Earth - GPX

Distance: 1526km, Elevation maximum: 1887m, Elevation minimum: 0m, Elevation gain uphill: 36451m
IGN Maps: Royan foret de la Coubre (1332ET). Rochefort Marennes (1430OT). St-Porchaire (1431E). Saintes (1531O). Burie (1531E). Perignac (1532E). Jarnac (1632E). Cognac (1632O). Angouleme (1732O). Angouleme Est / Ruelle-sur-Touvre (1732E). Angouleme (1732O). Piegut-Pluviers (1832E). Montbron (1832O). Chalus (1932E). St-Mathieu (1932O). St-Junien (1931E). Chalus (1932E). Ambazac (2030E). Limoges (2031E). St-Sulpice-Lauriere (2130O). Bourganeuf (2130E). Lavaveix-les-Mines St-Sulpice-les-Champs (2230E). Pontarion Sardent (2230O). Aubusson (2330O). Crocq Giat (2331E). Pontaumur (2431O). Massif du Sancy PNR des Volcans d'Auvergne (2432ET). Chaine des Puys PNR des Volcans d'Auvergne (2531ET). Monts du Cezallier PNR des Volcans d'Auvergne (2534OT). Riom-les-Montagnes Bort-les-Orgues PNR des Volcans d'Auvergne (2434OT). Monts du Cantal PNR des Volcans d'Auvergne (2435OT). St-Flour (2535E). Murat Neussargues-Moissac (2535O). Le Malzieu-Ville Mont Mouchet (2636O). St-Amans (Lozere) (2637E). Langogne (2737E). Grandrieu (2737O). Largentiere la Bastide-Puylaurent Vivarais Cevenol (2838OT). Besseges Les Vans Vallee du Chassezac (2839OT). Gorges de l'Ardeche Bourg-St-Andeol Vallon-Pont-d'Arc (2939OT). Bagnols-sur-Ceze Pont-St-Esprit forets de Valbonne et de Mejannes (2940OT). Orange massif d'Uchaux (3040OT). Carpentras Vaison-la-Romaine Dentelles de Montmirail (3040ET). Orange massif d'Uchaux (3040OT). Mont Ventoux (3140ET). Banon Sault Plateau de St-Christol (3240OT). Apt PNR du Luberon (3242OT). Plateau de Valensole Riez Oraison PNR du Verdon (3342ET). Manosque Forcalquier PNR du Luberon (3342OT). Gorges du Verdon Moustiers-Ste-Marie Lac de Ste-Croix PNR du Verdon (3442OT). Haut Esteron Prealpes de Grasse (3542ET). Castellane Lac de Castillon PNR du Verdon (3542OT). Haute Siagne (3543ET). Moyen Var (3641OT). Vallee de l'Esteron Vallee du Loup (3642ET). Cannes Grasse Cote d'Azur (3643ET).
Accommodation & Shops
Chazelles: Le Coin de Jeammet Bed & Breakfast, M. Colin & Jo Chatfield, 05 45 21 28 52, Email
There is a seasonal outdoor swimming pool and barbecue facilities. Garden view All rooms are equipped with a flat-screen TV. The rooms at Coin de Jeammet have a shared bathroom and free Wi-Fi. Continental breakfast. Evening meals on request.
Beauregard (St Ours-les-Roches): Beauregard Guesthouse, Madame Dominique Brunet, 06 85 42 67 05
In Beauregard, on the GR®4 and close to the GR®441, I propose a private stay in my house (garden, kitchen, living room with fireplace, one or two bedrooms with a bed of 120 and a bed of 90). Comfort.
Aydat: Les volcans Camping, M. Meyer, 04 73 79 33 90, 06 80 28 07 66, Email
Small family campsite 100m from the GR. Grocery store, snack bar, laundromat, toilets, heated swimming pool, free wifi. Open from April to October. Hiker package. Rental of accommodation per night. In summer at the snack bar: breakfast, pizzas, burgers, salads, roast chicken ... Full menu available online.
Lagarde-Pareol: Le Clos des Chenes Guesthouse and Gite, M. Scheidecker, 04 90 62 74 33, 06 42 30 91 52, Email

Rooms and table d'hotes lodging for 4 people on the edge of the GR®4. Swimming pool, garden, petanque court. Fully air conditioned accommodation.
Vascogne: Vascogne-sur-Esteron Guesthouse, M. Allouch, 06 03 13 66 73, Email
A large, welcoming house in the heart of the Prealpes d'Azur Regional Natural Park. Forests and hilltop villages give hikers an endless field of discovery. Comfortably equipped and well furnished house. An unforgettable stay ... ideal for recharging your batteries.

Registration
Accommodation or business owner on or near a GR®, you can appear on GR-INFOS
For your registration, you can send me by email (papadimitriou4@gmail.com): your address and phone number, your website (Facebook page), a brief description with 5 beautiful photos of your establishment.
Registration price : € 15 per GR® or GRP® and per year (12 months) or € 60 for 5 years. Renewable.
Share your experience about this trail
GR®4 Hiking from the Atlantic to the Mediterranean (Full itinerary)
From Royan to Saintes (Charente-Maritime)
From Saintes (Charente-Maritime) to Mouthiers-sur-Boeme (Charente)
From Mouthiers-sur-Boeme (Charente) to Cussac (Haute-Vienne)
From Cussac (Haute-Vienne) to Chatelus-le-Marcheix (Creuse)
From Chatelus-le-Marcheix (Creuse) to Condat-en-Combraille (Puy-de-Dome)
From Condat-en-Combraille to Egliseneuve-d'Entraigues (Puy-de-Dome)
From Egliseneuve-d'Entraigues (Puy-de-Dome) to St Flour (Cantal)
From St Flour (Cantal) to Loubaresse (Ardeche)
From Loubaresse (Ardeche) to Mondragon (Vaucluse)
From Mondragon (Vaucluse) to Simiane-la-Rotonde (Alpes-de-Haute-Provence)
From Simiane-la-Rotonde to Rougon (Alpes-de-Haute-Provence)
From Rougon (Alpes-de-Haute-Provence) to Grasse (Alpes-Maritimes)
Wikipedia GR®4

It is advisable to follow the beacons all along your hike and to bring you the FFRandonnee topo-guide. You will also find information on MonGR.fr.
GR®, PR®, GRP®, and the corresponding signs of markings (white / red, yellow and yellow / red) are trademarks of the French Federation of Hiking. They may not be reproduced without permission. The French Federation of Hiking, state-approved, includes organizations that create and maintain hiking routes on GR®, PR® and GRP®. It publishes guides these topo hiking routes. With your donations, support the actions of the thousands of volunteer markers of the FFRandonnee.
GR-Infos.com is an editorial partner of MonGR.fr.

Old romantic Hotel, L'Etoile Guest-House is a mountain retreat in the South of France. With a beautiful park along the Allier River, L'Etoile Guesthouse is located in La Bastide-Puylaurent between Lozere, Ardeche and Cevennes. Many hiking trails like GR®7, GR®70 Stevenson trail, GR®72, GR®700 Regordane way, Cevenol, GR®470 Allier River Springs and Gorges, Margeride, Ardechoise. Many hiking loops. The right place to relax.
Copyright © gr-infos.com