| | | |
| --- | --- | --- |
| | Hike around Monts Aubrac through Lozere, Aveyron and Cantal starting in Peyre-en-Aubrac (Aumont-Aubrac) via Grandviala, Soulages, Le Gibertes, Saint-Laurent-de-Muret, Les Enfrux, Laguiole, Saint-Urcize, Recoules-d'Aubrac, Escudieres, La Brugere, Le Carroc, Fourmels and La Croze. Guest House, Bed and Breakfast, Hotel, Camping, Inn. | |

Around Monts Aubrac (Lozere-Aveyron-Cantal)
165Km
The Aubrac plateau. Vast high plateau on the western borders of Lozere, Aubrac shows a strong personality. This basalt land, shaped since the end of the Tertiary era by volcanic eruptions, extends as far as the eye can see. Here and there, huge rocky blocks eroded by time, are placed on these waves of green and gray earth, similar to menhirs or dolmens. The lakes sparkle and the streams whisper. The rounded mountains covered with pastures, meadows and moors remind us that Aubrac is perpetuating an old pastoral tradition. It is a land known for its beautiful cows, its tomes and its aligot ... and for the transhumance of May, occasion of very colorful festivals. The old burons still dot the landscape: these small houses with slate roofs evoke the time when shepherds found refuge in these cramped rooms to make and store cheese and shelter from burle, that formidable west wind. From Nasbinals to Saint-Germain-du-Teil, small discreet villages and houses with robust walls of volcanic stones punctuate the landscape. Here, nature is omnipresent. Area of ​​the walker, the skier, the fisherman, Aubrac gives rise to all the walks. The medieval path leading to Saint-Jacques-de-Compostelle, now a long-distance hiking trail, offers ideal getaways into the region. The flora, on its own, offers an unmissable spectacle. Nearly two thousand species make Aubrac, it is said, a natural conservatory of European flora. A flora that explodes in spring, lining the mountains just out of hibernation with multicolored spots. Aubrac looks like an end of the world where men have managed to preserve warmth and conviviality, while maintaining their ancestral know-how. Markets and fairs are a showcase for meeting farmers and producers and sharing the real flavors of simple things.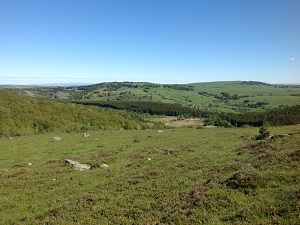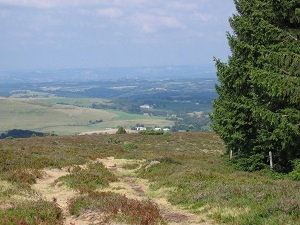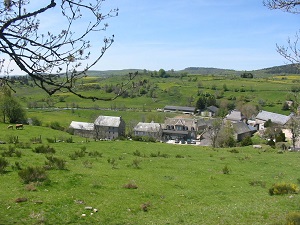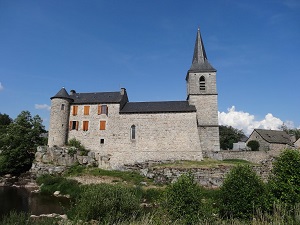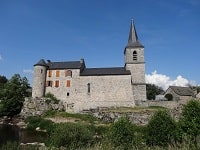 Google Maps - Google Earth - GPX
Distance: 165,82km, Elevation maximum: 1425m, Elevation minimum: 792m, Elevation gain uphill: 3530m
IGN Maps: Nasbinals - 2537OT. Sainte-Eulalie d'Olt - 2538OT. Saint-Chely-D'Apcher - 2637O.




Registration
Accommodation or business owner on or near a GR®, you can appear on GR-INFOS
Option 1: Your establishment on google maps, phone number, description, 5 photos and link to your website if you have one. Send by Email
Page in French and page translated into English.
See an example at https://www.gr-infos.com/en/gr700a.htm.
Registration price : € 10 per GR® or GRP® and per year (12 months) or € 40 for 5 years. Renewable.
Option 2: Creation of a web page with an address: https://www.gr-infos.com/"name of your accommodation ".htm, 5 photos, your accommodation on the google maps and a detailed description. Send by Email
Page in French and page translated into English.
See an example at https://www.gr-infos.com/en/goelo.htm.
Registration price : € 50 per year (12 months) or € 200 for 5 years. Renewable.
3 possibilities to pay for your registration:
By transfer: La Banque Postale, Papadimitriou Philippe, Iban: FR65 2004 1010 0913 5765 2E03 013, BIC or SWIFT: PSSTFRPPMON.
By credit card via iZettle (Paypal), a payment request will be sent to you by email.
By check payable to Papadimitriou Philippe (address below).
I remain at your disposal for any further information.
Philippe Papadimitriou, Route de Mende, 48250 La Bastide-Puylaurent, 06 83 99 70 86, papadimitriou4@hotmail.com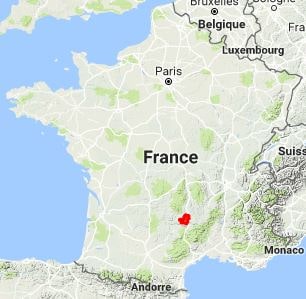 It is advisable to follow the beacons all along your hike and to bring you the FFRandonnee topo-guide. You will also find information on MonGR.fr.
GR®, PR®, GRP®, and the corresponding signs of markings (white / red, yellow and yellow / red) are trademarks of the French Federation of Hiking. They may not be reproduced without permission. The French Federation of Hiking, state-approved, includes organizations that create and maintain hiking routes on GR®, PR® and GRP®. It publishes guides these topo hiking routes. With your donations, support the actions of the thousands of volunteer markers of the FFRandonnee.
GR-Infos.com is an editorial partner of MonGR.fr.

Old romantic Hotel, L'Etoile Guest-House is a mountain retreat in the South of France. With a beautiful park along the Allier River, L'Etoile Guesthouse is located in La Bastide-Puylaurent between Lozere, Ardeche and Cevennes. Many hiking trails like GR®7, GR®70 Stevenson trail, GR®72, GR®700 Regordane way, Cevenol, GR®470 Allier River Springs and Gorges, Margeride, Ardechoise. Many hiking loops around L'Etoile Guesthouse. The right place to relax.
Copyright © gr-infos.com