| | | |
| --- | --- | --- |
| | Hike on the GR®40, Tour of Velay, through Haute-Loire department from Vorey via Donaze, Le Monteil, Mezeres, Saint-Julien-du-Pinet, Perignac, Le Pertuis, Queyrieres, Boussoulet, Montvert, Le Cros de Montroy, Montbrac, Roffiac, Saint-Front, Les Estables, Freycenet-la-Cuche, Largentiere, Goudet, Bargettes, Le Bouchet-Saint-Nicolas, Montbonnet, Le Vernet, Siaugues-Sainte-Marie, Siaugues-Saint-Romain, Bussac Haut, Chantuzier, Fix-Saint-Geneys, Chaduzias, Allegre, Ceaux-d'Allegre, Langlade, Anviac, Saint-Geneys-pres-Saint-Paulien and Labroc. Guest House, Bed and Breakfast, Hotel, Camping, Shelter, Inn, Shops. | |

GR®40
Around Velay (Haute-Loire)
188km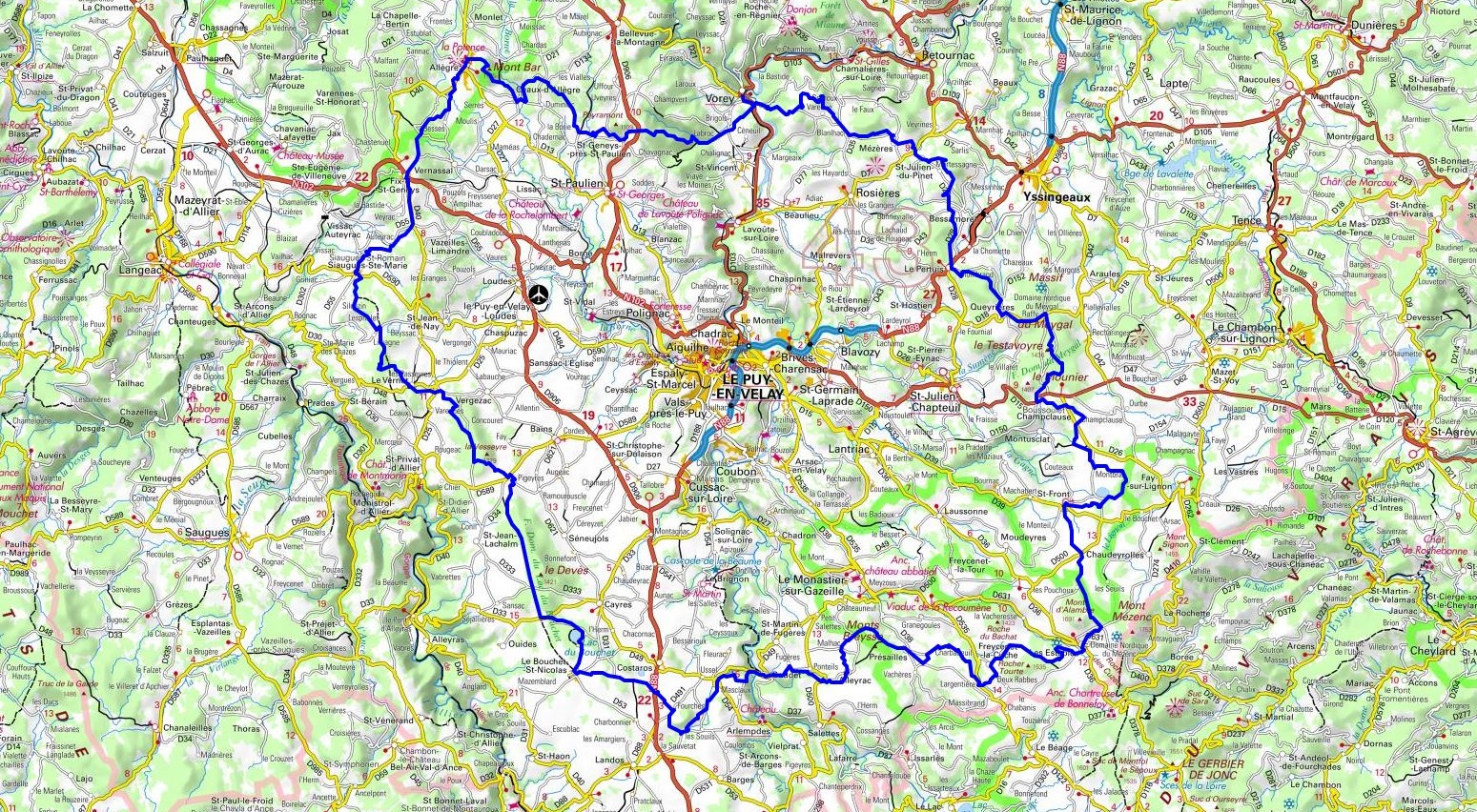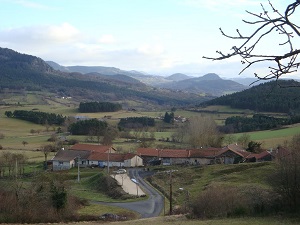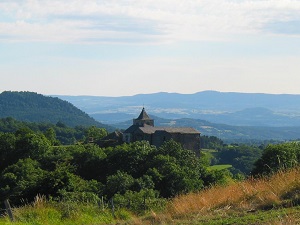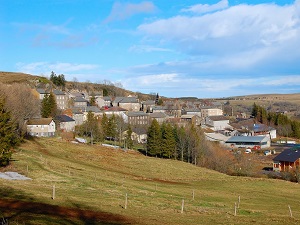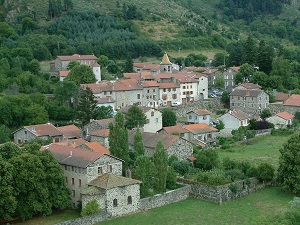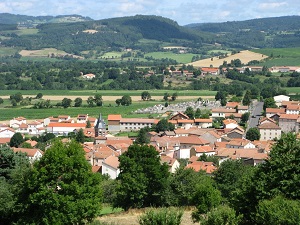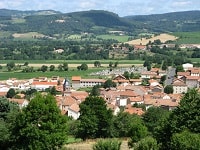 Distance: 188km, Elevation maximum: 1582m, Elevation minimum: 534m, Elevation gain uphill: 4752m
IGN Maps: Allegre La Chaise-Dieu - 2734O. Le Puy-En-Velay - 2735E. Loudes - 2735O. Solignac-Sur-Loire Cayres - 2736E. Le Puy-En-Velay Yssingeaux - 2835OT. Gerbier de Jonc Mezenc Vivarais - 2836OT.
Alleyrac: L'Ecole Restaurant, Bar, Pizzeria, Grocery store, M. Vincent, 04 71 00 20 62, 06 70 20 85 63, Email
The former Alleyrac school has been transformed into a bar restaurant pizzeria since 2018. Lucie and Sylvain will be happy to welcome you warmly and make you discover local products or their native region. Also in the establishment a grocery store, bread, stamp, gas, etc ...
Alleyrac: Gite la Cagouille, M. Vincent, 04 71 00 20 62, 06 70 20 85 63, Email

In the heart of the village, our gîte can accommodate at least 10 people. Living room, fitted kitchen, 3 bedrooms, bathroom and shaded private courtyard with garden furniture and barbecue.
Goudet: Hotel de la Loire, M. Blanc, 06 64 81 28 14, 04 71 57 18 41
The hotel offers 21 modest and very pleasant rooms. The restaurant offers menus from 10 to 20 €, a varied menu and specialties on order (pierrade, raclette, fondue). A room is planned for your banquets, weddings and business meals.

Registration
Accommodation or business owner on or near a GR®, you can appear on GR-INFOS
For your registration, you can send me by email (papadimitriou4@gmail.com): your address and phone number, your website (Facebook page), a brief description with 5 beautiful photos of your establishment.
Registration price : € 15 per GR® or GRP® and per year (12 months) or € 60 for 5 years. Renewable.
Nearby paths:
Around Robe de Bure and Cotte de Mailles (Haute-Loire)
Around Loire Gorges (Haute-Loire)
Around Margeride (Lozere)
GR®3 Loire River trail
GR®3F From Lafarre (Haute-Loire) to Apinac (Loire)
GR®7 From Vosges aux Pyrenees
GR®65 Santiago de Compostela trail
GR®70 Stevenson trail
GR®300 From Sancoins (Cher) to Puy-en-Velay (Haute-Loire)
GR®420 Around Haut-Vivarais (Ardeche)
GR®430 Saint Regis trail (Haute-Loire, Ardeche)
GR®470 Allier River springs and gorges
GR®700 Regordane way
GR®765 From Cluny (Saone-et-Loire) to Puy-en-Velay (Haute-Loire)

It is advisable to follow the beacons all along your hike and to bring you the FFRandonnee topo-guide. You will also find information on MonGR.fr.
GR®, PR®, GRP®, and the corresponding signs of markings (white / red, yellow and yellow / red) are trademarks of the French Federation of Hiking. They may not be reproduced without permission. The French Federation of Hiking, state-approved, includes organizations that create and maintain hiking routes on GR®, PR® and GRP®. It publishes guides these topo hiking routes.
With your donations, support the actions of the thousands of volunteer markers of the FFRandonnee.
GR-Infos.com is an editorial partner of MonGR.fr.

Old romantic Hotel, L'Etoile Guest-House is a mountain retreat in the South of France. With a beautiful park along the Allier River, L'Etoile Guesthouse is located in La Bastide-Puylaurent between Lozere, Ardeche and Cevennes. Many hiking trails like GR®7, GR®70 Stevenson trail, GR®72, GR®700 Regordane way, Cevenol, GR®470 Allier River Springs and Gorges, Margeride, Ardechoise. Many hiking loops. The right place to relax.
Copyright © gr-infos.com (Authorization for private use only)