| | | |
| --- | --- | --- |
| | Hike on the GR40, Tour of Velay, throughout Haute-Loire department from Vorey via Donaze, Le Monteil, Mezeres, Saint-Julien-du-Pinet, Perignac, Le Pertuis, Queyrieres, Boussoulet, Montvert, Le Cros de Montroy, Montbrac, Roffiac, Saint-Front, Les Estables, Freycenet-la-Cuche, Largentiere, Goudet, Bargettes, Le Bouchet-Saint-Nicolas, Montbonnet, Le Vernet, Siaugues-Sainte-Marie, Siaugues-Saint-Romain, Bussac Haut, Chantuzier, Fix-Saint-Geneys, Chaduzias, Allegre, Ceaux-d'Allegre, Langlade, Anviac, Saint-Geneys-pres-Saint-Paulien and Labroc. Guest House, Bed and Breakfast, Hotel, Camping, Inn. | |

GR40
Tour of Velay (Haute-Loire)
174km

Google Maps - Google Earth - Visugpx - Gpxview - GPX

Distance: 173,97km, Elevation maximum: 1582m, Elevation minimum: 539m, Elevation gain uphill: 4316m
IGN Maps: Allegre La Chaise-Dieu - IGN 2734O. Le Puy-En-Velay - IGN 2735E. Loudes - IGN 2735O. Solignac-Sur-Loire Cayres - IGN 2736E. Le Puy-En-Velay Yssingeaux - IGN 2835OT. Gerbier de Jonc Mezenc Vivarais - IGN 2836OT.


Accommodation
Alleyras: La Menuiserie Guesthouse, 06 08 55 43 43, +32 475 96 50 40, info@alleyrac.be
Sleeps 4 to 6 people Bathroom with shower and toilet, dressing room, fully equipped kitchen, living room with double sofa bed, bedroom with double bed and bunk beds, large terrace. The beautiful unspoiled nature invites to many walks. Alleyrac is also an ideal starting point to explore Auvergne. Cycling, mountain biking, surfing, horse riding, rafting, golf, ...
Goudet: Hotel de la Loire, M. Blanc, 06 64 81 28 14, 04 71 57 18 41
The hotel offers 21 modest and very pleasant rooms. The restaurant offers menus from 10 to 20 €, a varied menu and specialties on order (pierrade, raclette, fondue).
Le Bouchet-Saint-Nicolas: L'Houstaou Guest house, 04 71 57 32 51
At the heart of Bouchet Saint Nicolas "The houstaou" welcomes you. "The Houstaou" is the house in Vellave dialect. Built thanks to the great variety and abundance of the rocks of the Haute-Loire offering to the houses of here forms and multiple colors. Le Bouchet Saint Nicolas is a typical village with tight dwellings around their belfry and surrounded by agricultural plots.

If you are the owner of a lodging or a business on or near a GR® identified on www.gr-infos.com, you can be featured on it by filling in the inscription card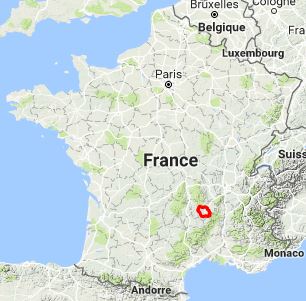 It is advisable to follow the beacons all along your hike and to bring you the FFRandonnee topo-guide. You will also find other information and advice on MonGR.fr.
GR®, PR®, GRP®, and the corresponding signs of markings (white / red, yellow and yellow / red) are trademarks of the French Federation of Hiking. They may not be reproduced without permission. The French Federation of Hiking, state-approved, includes organizations that create and maintain hiking routes on GR®, PR® and GRP®. It publishes guides these topo hiking routes.

Old romantic Hotel, L'Etoile Guest-House is a mountain retreat in the South of France. With a beautiful park along the Allier River, L'Etoile Guesthouse is located in La Bastide-Puylaurent between Lozere, Ardeche and Cevennes. Many hiking trails like GR7, GR70 Stevenson trail, GR72, GR700 Regordane way, Cevenol, GR470 Allier river trail, Margeride, Gevaudan, Ardechoise. Many hiking loops around L'Etoile Guesthouse. The right place to relax.
Copyright © gr-infos.com