| | | |
| --- | --- | --- |
| | Hike on the GR«5F through Moselle, Meurthe-et-Moselle and Vosges department from Apach to Bussang. Guest House, Bed and Breakfast, Hotel, Camping, Shelter, Inn, Shops. | |

GR®5F
Moselle Valley
From Apach (Moselle) to Bussang (Vosges)
405km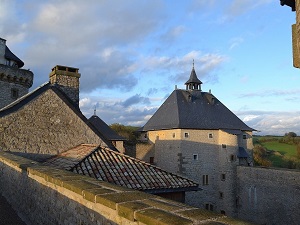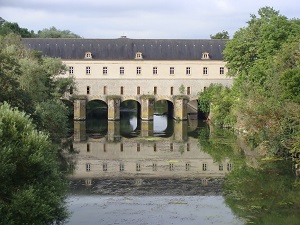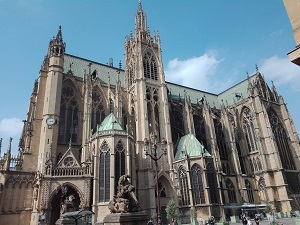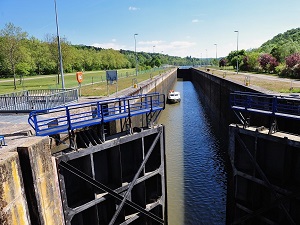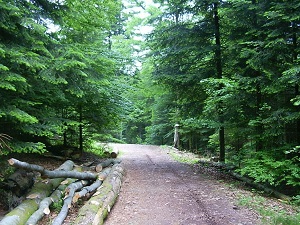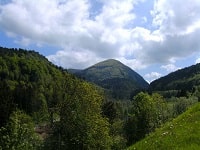 Google Maps - Google Earth - GPX

Distance: 405,31km, Elevation maximum: 1240m, Elevation minimum: 142m, Elevation gain uphill: 7993m
IGN Maps: 3312SB - BRIEY / JARNY. 3313SB - ARS-SUR-MOSELLE / CHAMBLEY-BUSSIERES. 3314SB - PONT-└-MOUSSON / THIAUCOURT-REGNIEVILLE. 3315ET - NANCY / TOUL / FORET DE HAYE. 3411SB - THIONVILLE/SIERCK-LES-BAINS. 3412SB - WOIPPY/UCKANGE/VIGY. 3413SB - METZ/COURCELLES-CHAUSSY. 3416SB - BAYON / FLAVIGNY-SUR-MOSELLE. 3417SB - MIRECOURT/CHARMES. 3517SB - RAMBERVILLERS / CHATEL-SUR-MOSELLE. 3518OT - EPINAL / BRUYERES / VALLEE DE LA MOSELLE. 3519OT - REMIREMONT / PLOMBIERES-LES-BAINS / PNR DES BALLONS DES VOSGES. 3520ET - BALLON D'ALSACE / KRUTH / GIROMAGNY. 3520SB - LURE / MELISEY. 3618OT - LE HOHNECK / GERARDMER / LA BRESSE / PNR DES BALLONS DES VOSGES. 3619OT - BUSSANG / BALLON D'ALSACE / GRAND BALLON. 3620ET - GRAND BALLON / CERNAY / GUEBWILLER.

Registration
Accommodation or business owner on or near a GR®, you can appear on GR-INFOS
For your registration, you can send me by email (papadimitriou4@gmail.com): your address and phone number, your website (Facebook page), a brief description with 5 beautiful photos of your establishment.
Registration price : € 15 per GR® or GRP® and per year (12 months) or € 60 for 5 years. Renewable.
GR®5F Moselle Valley
From Apach (Moselle) to Pont-à-Mousson (Meurthe-et-Moselle)
From Pont-à-Mousson (Meurthe-et-Moselle) to Chatel-sur-Moselle (Vosges)
From Chatel-sur-Moselle (Vosges) to Bussang (Vosges)
Nearby paths:
Around Vologne river (Vosges)
GR®5 From Luxembourg to the Mediterranean
GR®5B From the Pastoral Hut of Thures to the Oratory of Saint Roch (Hautes-Alpes)
GR®5C From Nevache to Briancon (Hautes-Alpes)
GR®5E From Bonneval-sur-Arc to Modane (Savoie)
GR®5G From Saarbrücken (Germany) to Metz (Moselle)
GR®531 Crossing Vosges Massif (Bas-Rhin, Haut-Rhin)
GR®532 Vosges crest and high valleys
GR®533 Vosges crests and lakes

It is advisable to follow the beacons all along your hike and to bring you the FFRandonnee topo-guide. You will also find information on MonGR.fr.
GR®, PR®, GRP®, and the corresponding signs of markings (white / red, yellow and yellow / red) are trademarks of the French Federation of Hiking. They may not be reproduced without permission. The French Federation of Hiking, state-approved, includes organizations that create and maintain hiking routes on GR®, PR® and GRP®. It publishes guides these topo hiking routes.
With your donations, support the actions of the thousands of volunteer markers of the FFRandonnee.
GR-Infos.com is an editorial partner of MonGR.fr.

Old romantic Hotel, L'Etoile Guest-House is a mountain retreat in the South of France. With a beautiful park along the Allier River, L'Etoile Guesthouse is located in La Bastide-Puylaurent between Lozere, Ardeche and Cevennes. Many hiking trails like GR®7, GR®70 Stevenson trail, GR®72, GR®700 Regordane way, Cevenol, GR®470 Allier River Springs and Gorges, Margeride, Ardechoise. Many hiking loops. The right place to relax.
Copyright © gr-infos.com